Direction : Atul Kumar
Writer : Pallav Singh and Niketan Sharma
Cast : Neil Bhoopalam, Abir Abrar, Gagan Dev Riar, Srishti Shrivastava, Niketan Sharma, Mrinmayee Godbole, Mallika Singh, Sukant Goel, Rachel D'Souza, Anna Ador, Roshan Shetty, Sanket Kadam


DETECTIVE NAU-DO-GYARAH Play Review
---
| | |
| --- | --- |
| | DETECTIVE NAU-DO-GYARAH Review |
Schedule
No upcoming shows.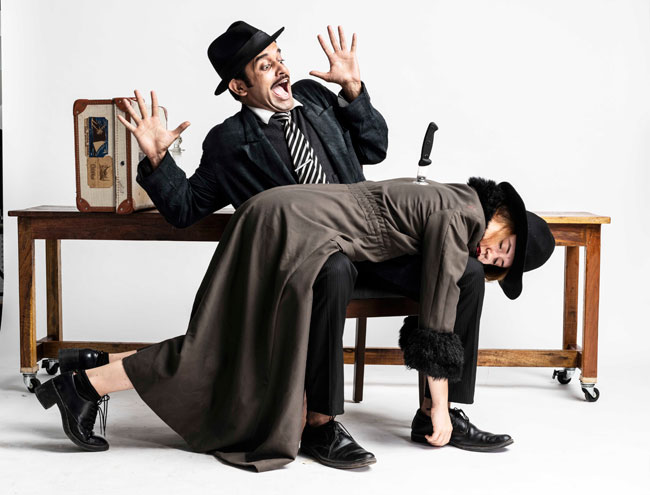 Aadyam, the Aditya Birla Group's theatre initiative is back with its 4th edition, and the opening play is DETECTIVE NAU-DO-GYRAH, written by Pallav Singh and Niketan Sharma, and directed by Atul Kumar. It is theatre razzmatazz alright, but its meshed-up narrative, borrowed from the caper dramas of the 1940s and 50s Hindi cinema, has no juice of its own to sustain a more lasting memory.

Great inspiration no doubt, among other forms, as lovingly elucidated by the director in the play's programme notes. This world promises intrigue and sex with a cool sophistication peppered with jazz and cigar smoke, even though it is run down to a cliché, but what better setting there can be than our very own island city of Mumbai, always deviant, always daring. It's a winning combination. Exciting as these propositions are, the enterprise steeped in satire does not quite hold up as its novelty steadily wears off.

At the very beginning and in the intervening periods there is fun to be had. In fact the production promisingly starts off with a tantalising prelude by the director (he is part of the ensemble). It is just the kind of stuff that makes you sit up and behold what is to come. You are just as much an audience at the Opera House in which the opening and closing scenes are set. There's a nice touch there of showmanship that sets the tone.

Credit is due here to the writers Niketan Sharma (also in the ensemble) and Pallav Singh for this nostalgic tryst with Mumbai and its daredevil approach typified by their noir yet suave hero Shekhar Gupta (played with ease by Sukant Goel). There is a very reliable ensemble in support taking on multiple parts, prominent among them, Neil Bhoopalam, Gagan Dev Riar, Abir Abrar, and Anna Ador. Ador, in view of her background, convincingly slips into her Russian avatar. It's thoughtful casting.

Some of the tropes to highlight the multiple settings are ingenious and delightful. There is a vivid sense of playfulness and that can be charming. Eventually the borrowed-ness of the enterprise with no unusual or critical spin-off of its own, becomes a lumbering, excessive exercise in satire. And, while the live band comprising musicians - Anish Ghanekar, James Miranda, Kaizad Gherda, Vishal Singh and Harsh Karngale put up a very decent show, their music could have been further explored, in that the jazz could have been richer and smokier, certainly. Now that would have been actually sexy.

*Deepa Punjani is the editor of this website.