---
Divyani Rattanpal





Direction : Akshay Mishra
Writer : Akshay Mishra
Cast : Puneet Issar, Sharon Chandra, Pavitra Sarkar & Anuradha Athlekar


In childhood, everyone must have played chupan chipayi (hide and seek). After hiding in a discreet spot, and being confident they'd never be found, their hopes must have been dashed with the sound of dhappa!

Aum Theatre Mumbai's DHAPPA is a take on that sudden sounding pat on the back familiar to most of us. But unlike a friend or playmate, here it's the ghosts of the past that seem to catch the protagonists out of the blue.

The story is set in the 1950s. Kumar is a failed actor who is infamous in the tabloids for his rude behavior and alcoholism. He is encouraged to do better by his sister, Iravati, who dances phenomenally but could never be a professional dancer.

Along comes Shyam, a foreign-returned director who wants to make his debut feature - not with Shyam, but with Iravati, the sister. Kumar refuses permission. How the plot twists from sibling jealousy and patriarchal norms is the dhappa moment of the play.

As bright and alluring as the play's beginning and middle is, the ending is engulfed in a fog. Although it has a very political meaning - it talks about the free labour women do for male artists, as muses and wives -- the character graph of Shaam's wife, Manju, could be better defined.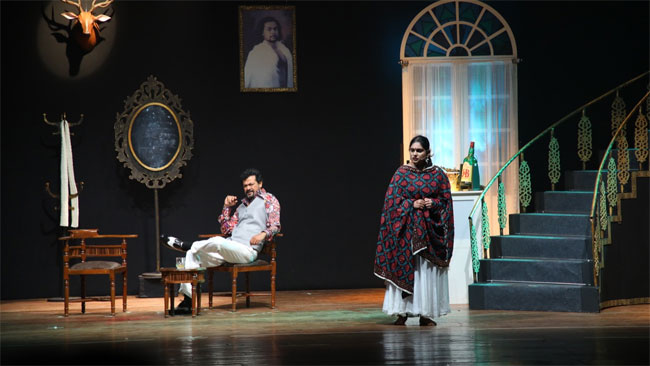 The set design by Shailesh Bhamare and Sunil Pandit is regal and mesmerizing.

Musicians Ajit Kumar Srivastava, Amit Ranjan Srivastava and Radha Srivastava are phenomenal.

Puneet Issar as lead cast really makes his commanding presence felt. Sharon Chandra, as lead actor and dancer, gives some memorable moments. Pavitra Sarkar, playing the role of Kumar, is outstanding and very convincing in his performance.

Director Akshay Mishra has done a fine job as a lyricist. The words flow effortlessly with the narrative. His direction, too, is admirable, though the play's pace could have been faster.

*Divyani has worked as a journalist for The Quint, where she was also among the Founding Team members. While there, she also hosted and produced a podcast and fronted several standups. She's also worked for The Times of India group. She's now a theatre and film actor.