Direction : Vikram Phukan
Writer : Vikram Phukan
Cast : Sahir Mehta, Nihir Jain and Akash Ghosalkar


DRY ICE Play Review
---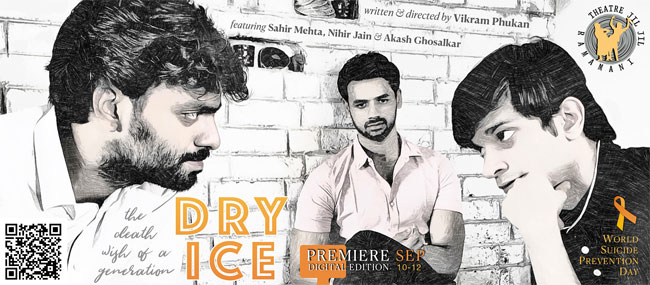 Vikram Phukan's DRY ICE talks about love, dejection, death, and mourning, through the particular lens of online queer communities in an internet-driven era. The play throws light on the number of deaths that frequently occur in the queer community and the possible circumstances that lead the community members towards seclusion, depression, and much more. It also talks about the aftermath of death and the online mourning rituals as a way to express condolences. The play comprises different snippets presenting different phases of the life of the three main characters, Akash- host of a radio show, Sahir who is Akash's friend and a confidant, and Nihir who seeks comfort in talking to the host of the radio show. Through these interconnected characters, we witness what goes into their daily lives, and how each one of them is fighting a battle of their own.

In today's time, where we all struggle to find meaning in life, to seek validation, the need to feel accepted, it is particularly more troublesome and difficult for the minorities to do so. Though these are universal feelings, the intensity with which one feels and gets affected has a lot to do with who one is and how society accepts and positions them in the worldview. Similarly, the characters in the play are looking for validation and answers to various questions about life.

Director, Vikram Phukan, who has drawn inspiration from real-life incidents and experiences for the concept of this play, says "This is not a statistic from a survey, but a personal count — more than two score queer men I've known, most of them under forty years of age have died in the past few years alone, when I first began taking note of the growing notes of commiseration and stream of condolences online. With DRY ICE, I wanted to look at death and mourning through characters (loosely based on true individuals) who grapple with the urban narcissism that besets us all and the toll extracted by toxic masculinity, and discover that love isn't quite the many-splendored thing, but messy and chaotic."

Akash is a reserved and closeted radio jockey. He uses a mix of Urdu and Hindi in his radio show and has a playlist dedicated to women and their desolation, which he uses as his way of expressing his emotions. "Zindagi ek khel ki tarah hai..jiska ant aapko nahi pata..aapko bas khelte jaana hai" is a reference that he uses from one of the songs in his radio shows, summarizing the overall tone of the characters who are juggling with the problems in their life but also suggesting that one should never lose hope and must move on in life.

Sahir who is extremely close to Akash has found the love of his life. He marries his partner, and shifts to France where same-sex marriage is legal but his life didn't turn out to be the way he had expected. Not getting the freedom and acceptance in a foreign city turns out to be a harsh reality for him to deal with. Leading an unhappy married life, he starts to grow cynical. His character arc shifts from a jolly, fun-loving guy to an eccentric, unhappy person. Nihir on the other hand, is still at an early age in his life, learning to deal with challenges. We can see the nervousness and vulnerability every time he picks up the phone to dial the radio station. He is seeking out someone to talk to, to express his feelings to, but is also scared at the same time. Things take a serious turn when Akash realizes that Nihir might take his own life. What is common in all three characters is the feelings and emotions bottled inside them. This is perhaps true to the society we live in, where one is not welcomed to express and talk, especially true for the members of queer communities. Another reason being, the constant judgment they experience with every eye that falls on them.

The performance by all three actors is sincere and genuinely delivered. To have worked and recorded these performances in their own individual places, the level of believability hits the right chords.

The music is underlaid in an interesting way leading the narration and forming an essential part of the structure of the play. It serves as a subtext and talks about death and the aftermath. Most of it consists of old Hindi songs from the films like Garam Hawa, Mahal, Udan Khatola played by Akash in his radio show. The edit adds to the setup of the show and has its own use and significance. The background keeps changing to give context to the conversations the characters are having, but it is very subtle and therefore, doesn't feel like the clips are forcefully put together.

This is a 60-minute long pre-recorded performance wherein each team member worked from their respective locations in Delhi, Mumbai, Pune and Guwahati.

*Parul Rana is a theatre enthusiast and movie buff.