Writer : Sneh Sapru
Cast : Yuki Ellias


ELEPHANT IN THE ROOM Play Review
---
| | |
| --- | --- |
| | ELEPHANT IN THE ROOM Review |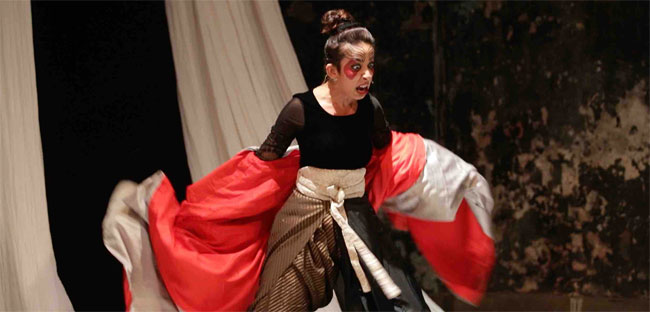 To pull off a one-person show in which the director is also the actor, requires certain physical, emotional and mental rigour. Loosely based on the myth of the elephant-god Ganesha, mythological lore comes to life in a contemporary setting in ELEPHANT IN THE ROOM.

The story revolves around the life of "Master Tusk" after his head has been replaced by an elephant's. The magic-realism piece opens with the lost Master Tusk in a forest. Confused and saddened by the sudden fixture of an elephant's head on his human body, he rebelliously leaves home in search of his original head. But the play gives the usually trodden path a miss.

The quicksilver wit of the narrative complements Yuki Ellias' acting skills and infects the room with electrifying energy. Her seamless character transformations keep the audience hooked. Although not originally written as a children's play, it has found its way across children theatre festivals as well. The show I saw had just as many children with adults - both leaning in with immense attention. But parents should be careful to check the age-group of the children permitted. Yuki Ellias is a joy to watch, occasionally roping in a child from the audience.

Whether it is the chatty "Makdi" or the old wise elephant "Wordsweight" - each character is memorable. The narrative eschews a conventional telling of the myth. The reimagined myth acts as a springboard for themes of migration, patriarchy, hierarchy, and power. Through the ecosystem of the jungle, the natural habitat of animals, both Sneh Sapru and Yuki Ellias have managed to create an entertaining yet thought-provoking piece.

*Ayushi Shah has a Bachelors Degree in Mass Media with a Major in Journalism. She has worked in various media and in public relations. She enjoys theatre and has acted in and directed inter-college festival plays.