A blue-hued ambience, redolent with the sweet, alluring smell of camphor leads you into the significantly opposite and yet complementary worlds of God and courtesan in Girish Karnad's FLOWERS. Like his early plays such as HAYAVADANA and NAGAMANDALA, this one too is based on a folk tale. The tale in question is from the town, Chitradurga in Karnataka and revolves around a Brahmin priest and his equal love for God Shiva, his wife and his mistress, the wealthy and beautiful courtesan, Chandravati.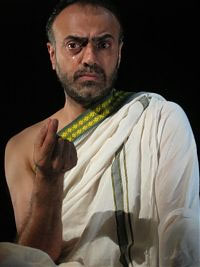 Karnad casts his creative net to make the tale his own but the experience is unlike his earlier reworking of folk tales. For one, the play takes the form of a long monologue. This is not a problem in itself but the performance enacted by Rajit Kapoor and directed by Roysten Abel comes across as rather static. The play is not as compelling as Karnad's earlier work even though it is steeped in symbolism and allusions. It falls short of provoking a more nuanced response in spite of the subject it tackles.

The irony however in instances such as when the protagonist-priest says something to the effect of 'Cannot God be a woman?' is not lost. The priest's passionate worship of the non-living 'lingam' is equated with the living 'yoni' and underlies the oneness of the Shiv-Shakti principle but in stricter religious terms is considered sacrilegious- how can a priest's relationship with a courtesan be beautiful and divine? The play in that sense is a subdued critique of the paradoxes that we comfortably create and appear to live with for the sake of received and accepted convention.

Roysten Abel's direction lends the production a transcendental quality with the combined effect of light and water. At the same time the convergence of three or four spotlights appears too orchestrated as in a music concert. Rajit Kapoor's priest is situated at a height, much above the stage level and below him is the temple tank. It is here, perched on a ledge that he reflects his life in the shimmering waters below.

His character takes on a slow, measured speech but beyond a point it becomes altogether monotonous. Except in bits and parts, it is virtually impossible to find a greater involvement with the priest and the events in his life. Kapoor does well for the narrative style he adopts and the text is rich with a descriptive quality to it. But in totality the experience is still distant and the content beyond a point neither greatly engaging nor provoking.

*Deepa Punjani is Editor of this website.