Direction : Rasika Agashe
Writer : Mukesh Nema
Cast : Vipul Nagar, Rasika Agashe, Vikas Tripathi, Aakanksha Kadre, Saurabh Thare, Atul Kadam, Amit Pandey, Chiatanya, Janhavi, Amrita, Priyanka, Arpit, Raaj, Tejas


HARUS MARUS Play Review
---
Schedule
No upcoming shows.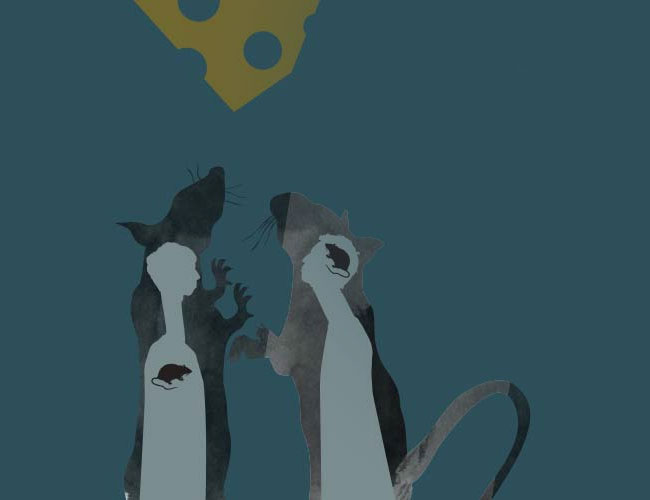 There is more to playing rats than just squeaking. HARUS MANUS is about a rat colony happily holed in a godown owned by a rich merchant, Malik (Vipul Nagar).The rats lead a furtive life sneaking into the godown's granary at night and happily eating a bellyful, until one day Malik decides to get rid of the vermin. But the pest control mission is not easy to execute as the workers working in the granary regard the rat as Lord Ganesha's vehicle! They aren't ready to 'sin' ! But Malik's conniving wife, predictably addressed as Malkin (Raskia Agashe), forces the servant "Garib" (Vikas Tripathi) to exterminate the vermin gang by loaning him the money for his daughter's engagement.

Garib sets upon his task reluctantly. As luck would have it, two white mice out of the colony get caught by him. They are the wonder siblings "Harus" and "Marus" who can talk like humans! As Harus and Marus lie groaning in agony, Garib is filled with remorse and he decides to revive the two. This is the beginning of a strange kinship between Garib and the mice, which makes him introspect his own pathetic existence.

Can Garib rise and strike against the oppressive system of his employers? Can he muster the courage to face his domineering Malkin? Can Harus and Marus put their unique abilities to use? Can the rats and humans co-exist amicably?

The play raises several existential questions. The writer has picked up the themes of oppression and exploitation but gives these a novel twist. The huge cast comprising the colony of rats, keeps the audience amused with their antics. Likewise, director-actor Rasika Agashe in the role of the Malkin obsessed with taking selfies, even with Garib falling at her feet, puts forth an effortless performance.

The divine intervention of Lord Ganesha turns out to be tedious. The play begins to lose its grip here; some smart tweaking could enhance the appeal of the play. Excellent performances by the cast, a thought-provoking tale, with Amod Bhat's engaging music, Santosh Jadhal's simple yet effective sets and Sachin Lele's lighting make the play an enjoyable watch.

*Deepa Punjani has been writing on theatre and performance for close to two decades. She represents the Indian National Section of Theatre Critics, which is part of the International Association of Theatre Critics (IATC) that has over 50 participating countries.