---
Deepa Punjani





Direction : Mohit Takalkar
Writers : Vijaydan Detha, Chirag Khandelwal, Arvind Charan
Cast : Ajeet Singh Palawat, Ipshita Chakraborty, Puneet Mishra, Bharati Perwani, Mahesh Saini and Bhaskar Sharma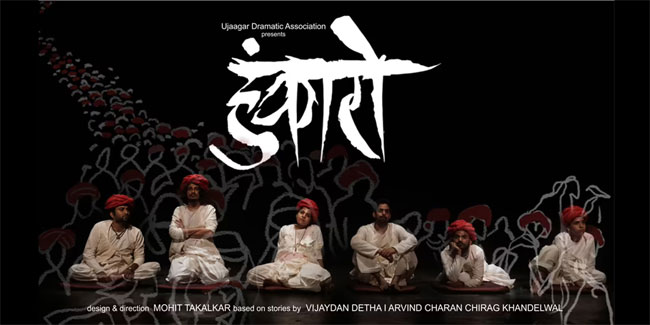 HUNKARO, directed by Mohit Takalkar, makes a compelling pact between its storytellers and their audience. HUNKARO translates as an interaction between the narrator and the listener, as a call-out, as acknowledgement that the two parties - the storytellers and their audience have come together - that this potential conversation may lead to a shared understanding, and perhaps to some empathy.

Collaborating with the Ujaagar Dramatic Association from Jaipur, HUNKARO underpins its narrative in Marwari, Harayanvi, Avadhi, Hindi, speaking for its characters and their mileus that are beset by hardship and poverty. While two of the stories penned by Chirag Khandelwal and Arvind Charan evoke the crisis of the migrant workers at the onset of the Covid pandemic, Vijaydan Detha's story Asha Amar Din, is the centrepiece linking the narrative, making the tragic humane, pitting hope against brutality. This co-existence is more likely than we are willing to admit.

Detha's writing makes hard truths the order of the universe. The worse is both possible and palatable. In its native Rajasthani, Detha's voice brings forth a striking simplicity and candour with a metaphorical resonance that cuts deep. Yet there is no judgement or morals to seek refuge in.

The six actors, Ajeet Singh Palawat, Ipshita Chakraborty, Puneet Mishra, Bharati Perwani, Mahesh Saini and Bhaskar Sharma in their traditional dress carry the stories with commendable prowess. It is their voice that matters. Everything else is at a bare minimum, even gestures. There is no artifice because none is necessary. Mohit's directorial sensibilities put the story and the actor first, but the design though not obvious, is palpable. Little things matter: the change in lights, the way the actors emote, how they sit. The simplicity belies the more abstract.

It is hard to imagine as it were in our times to convey ideas and words. It is easier perhaps to simplify, but that comes at a certain cost, evidenced by the titters and laughter from nervous audience members who could not be more distant though they were in the time and space of the unfolding narrative.

Nevertheless, this is a strong production emerging from the aftermath of the pandemic, serving to memoralise the sheer tragedy that befell the migrant workers in all its sheer sadness. Detha's incisive writing then crystallises this effort to build appreciation for language, for the cultural microcosms which language makes possible, and in turn to speak for some its most marginalised people, who negotiate the terrain of caste and class in India, forever poor, forever hopeful.

*Deepa Punjani is a lawyer with a background in theatre and theatre criticism spanning several years. She is founder-representative of the India Member Association/National Section of the International Association Of Theatre Critics (IATC).