Direction : Akshay Anand Kohli
Writer : Akshay Anand Kohli
Cast : Abbas Syed, Akashdeep Arora, Anurag Jha, Ayush Tiwari, Chirag Mehra, Devyani Dagaonkar, Garv Jangid, Mohit Agarwal, Rahul Choudhry, Raj Sejpal, Rohit Tiwari, Saloni Batra, Sarang Patwarddan, Srishti Wadhwani, Umang Khanna, Vijayta Saran


I BO KAATTEY Play Review
---
Schedule
No upcoming shows.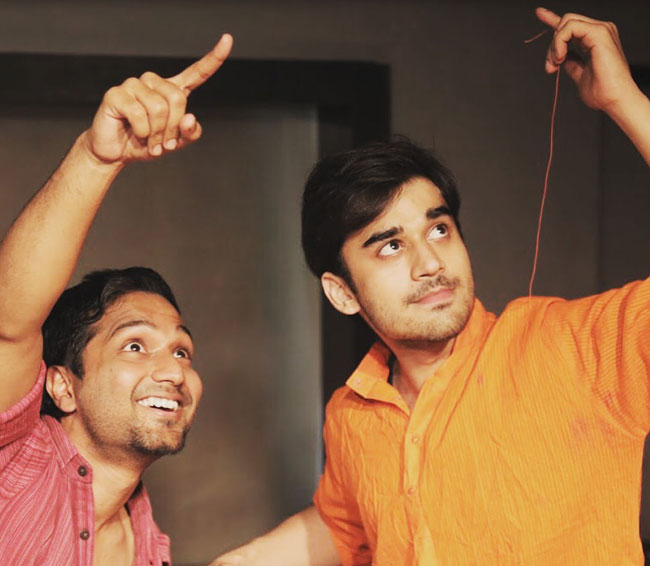 One of the themes to emerge from Afghan-born, American novelist Khaled Hosseini's famous novel The Kite Runner is that it underlines the complex relationship between a father and his son. In his Hindustani-Punjabi staged adaptation of the book, actor-director Akshay Anand Kohli does not particularly focus on this aspect.

Although Kohli does bring out the familial aspects of the narrative, he largely focuses on the internal dichotomy of right and wrong that the protagonist Azaad (Amir in Hosseini's book ; played by Sarang Patwarddan) faces in his various relationships, and not least with his father. The production highlights Azaad's undying friendship with Jeet (Hassan in Hosseini's book; played by Anurag Jha) as the focal point around which all relationships blossom. Be it Azaad's uneasy equation with his father (played by Rohit Tiwary) or Azaad's warm bonding with his father's close confidante and friend Raheem Khan (played by Abbas Syed), each relationship peels off another layer of Azaad's internal struggle.

Metaphorically, Azaad overcomes the shackles of fear by rescuing Adithi, Jeet's daughter from a brothel. This is also an attempt to redeem himself. In the book, Hassan (Jeet in this production) has a boy, but Kohli has made a conscious choice to cast a female character.

Azaad's childhood is skilfully revealed scene by scene, and by character to character. Azaad's guilt hangs in the air, and Kohli intermittently introduces people who inject bouts of humour allowing the audience some respite in preparation for another heavy scene to absorb. A song and dance sequence during the intense kite flying competition between Azaad and his oppressors adds a flavour of celebration.

While these characters do infuse humour, their role in the progression of the story cannot be undervalued. Simply put, every person on the stage, is integral to Azaad's journey, and are conduits to take the story forward. Most revelations are made through letters handed over to different people. Raheem Khan's letter to Azaad, narrated by Rukhsaar (Azaad's wife) and the voice of Raheem Khan, sets the stage for Azaad's journey to Lahore in Pakistan. During his travel he meets Harpal Singh, a Sikh with a jolly temper, and through him we learn of Azaad's childhood betrayal.

The actors break the fourth wall by interacting with the audience; by giving them ladoos on an auspicious occasion, or by showering flower petals when Azaad wins the kite flying competition, or by responding favourably when the audience's "Irshaad" acknowledges the soulful ghazal in the play. The audience feels itself intimately to be a part of Azaad's home.

The set is bare save for a couple of tables and chairs, and the actors judiciously use the space, be it during an intense fight scene, or the kite-flying competition, or the synchronised dance. The glass door that is used for entry and exit doubles up as indicative of the kotha.

The music sums up the mood effectively " it shows as an expression where mere words won't do " and in a particular scene especially when the Sikh tabla player leaves the trio of muscians, it is symbolic of the partition between Indian and Pakistan, with Raheem Khan's flowing tears.

Nearly all characters effortlessly played their parts as if they were very much the people they were portraying - be it Rukhsaar's vulnerability upon knowing that Azaad is leaving for Lahore, or the poise and grand stature of Azaad's father, not to forget the subtleness of a younger Azaad and the charisma of his more mature self. Moving on, the wrath of Azaad's opressors and the shrillness in Adithi's voice. Lastly, a worthy mention of Jeet who dissolved in the role of a friend like sugar in water; not visible on the outside but indispensable from the inside. The play also benefits from the performers' intonations/accents and appropriate costumes.

This prompts a question. How often do artistes have the power to move their audience? I would imagine always, but they succeed sometimes. In this production that ability is proved and it is distinctly palpable.

*Nishtha Juneja likes to act and write about theatre. Nishtha Juneja is passionate about dance and food and has completed a post-graduate diploma in Journalism from the Xavier Institute for Communication (XIC).