Schedule
No upcoming shows.
The life and teachings of Mohandas Karamchand Gandhi (Mahatma Gandhi) have been extensively explored in various mediums. One might almost think that there is nothing that much new left to be illustrated or said.

MOHAN NO MASALO written by Ishaan Doshi and directed by Manoj Shah, may not bring any particularly new insights, but there is a friendly, entertaining quality that makes the production enjoyable. The play aims to highlight instances from Gandhi's early life, much before he became famous as the Mahatma. He was just Mohan then. Like Shah's various other productions, this one too is a mono-act in which a famous historical character speaks candidly. Pratik Gandhi plays the young Mohan.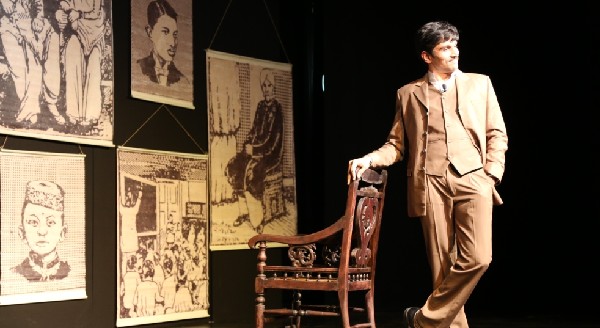 The name Gandhi raises a stereotypical image of an old, skinny man wearing a white loincloth, with a stick in his hand, and likely to be surrounded by his disciples. This is the image that the play first and foremost dispels, in order that we go beyond the holier than thou character of Gandhi to appreciate the young man he was. Pratik Gandhi immediately dispels the cliches that we may have about Gandhi's persona. He dresses in a formal suit that stands out for its inkish-blue colour and occasionally wears a turban as was the case and talks in a typical Gujarati accent that would have been native to Gandhi. Pratik Gandhi's 'Mohan' thus begin to share early incidents that taught him various lessons at different times in his youth, and which became a foundation, contributing to his future, definitive struggles.

Ishaan Doshi, who has acted in Shah's plays, makes his debut as a writer. There is a skillfulness about his writing, filled with moments of humour and the wise nuggets that would be appreciated by the Gujarati audience. The metaphor of the quintessential Gujarati masalo works its charm. The death of Mohan's mother and his experience in South Africa are the sequences that stay with you even after the play is over. The writer also fulfills the challenge of ensuring the audience doesn't feel the absence of a big set. However, the lighting could have been more creative.

Pratik Gandhi has proved his mettle as an actor of quality with fine performances in MASTER MADAM and HU CHANDRAKANT BAKSHI. With his act in MOHAN NO MASALO, he has raised his standard. His remarkability is on display as he conveys different emotions and moods with ease. The play is more successful because of him.

The makers are planning to stage this mono act in other languages, which is a good decision.

Keyur Seta is a freelance film and theatre journalist and a blogger. For him, life is a stage where we all play our respective characters.