Direction : Quasar Thakore Padamsee
Cast : Abhishek Krishnan, Arundhati Nag, Aseem Hattangady, Asif Ali Beg, Bhavna Pani, Bhushan Vikas, Junaid Khan, Keith Sequeira, Muskkaan Jaferi, Rajat Tiwari, Tavish Bhattacharyya, Trupti Khamkar and Tushar Kadam


MOTHER COURAGE & HER CHILDREN Play Review
---
| | |
| --- | --- |
| | MOTHER COURAGE & HER CHILDREN Review |
Schedule
No upcoming shows.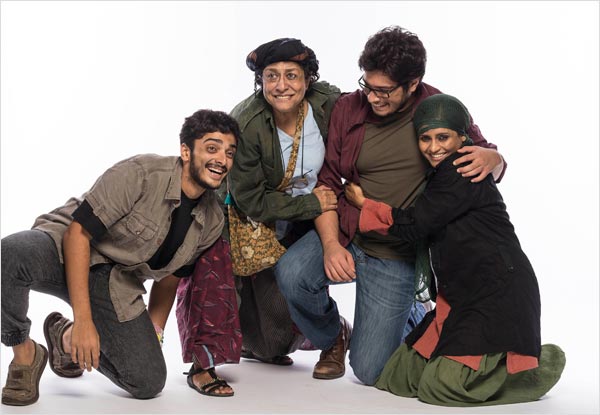 ''The storm is gone, the clouds depart. Get out all of you who still survive, get out of bed and look alive/Jaago, jaago toofan tham raha hai...''

Bertolt Brecht's timeless play MOTHER COURAGE AND HER CHILDREN is a story of survival in times of conflict, destruction and death. Mother Courage (Arundhati Nag) has survived the war for 17 years, wandering the wide world in her much-used wagon with her three children -- Alif (Abhishek Krishnan), Samveed (Junaid Khan) and Kamrin (Bhavna Pani) selling her wares to anyone who can pay for them. The wagon, which doubles as shelter, is inseparable from Mother Courage. Only at a desperate time later in the play, she almost comes to parting with it. However hard and trying the times, Mother Courage is indefatigable. Her quick wit pulls her out of tough spots with the law and she moves ahead regardless of the situations she encounters. In fact in war she sees business and means business.

While Mother Courage remains the central character, director Quasar Thakore Padamsee has intricately woven in other characters such as the preacher (Asif Ali Beg), the prostitute Ibbani (Trupti Khamkar), among various other characters, who also form the chorus in this ensemble piece. Although characters such as the preacher are only too willing to change their tune as per the demands of the war, Mother Courage is inwardly more intact. If she changes her allegiance, symbolised by the flag that flutters above her wagon, it is only because it is practical and exigent to do so in her scheme of things. Survival is key; even the prostitute must fill her belly even if it means plying her trade for a piece of meat. Yet Mother Courage in spite of her cold-minded pragmatism has integrity.

The play is as relevant as it was nearly 80 years ago when it was first staged. Adapted to suit the Indian context, Quasar has interspersed words from other regional languages and has localised references. The play regarded as an anti-war classic stemmed from an innate desire to speak up against the rising forces of Nazism in Hitler's Germany and the Fascism that was consuming Europe at the time. In India now, and also around the world, we see the same kind of forces rising again. The play could not have come at a more opportune time. The opening exchange between the Sergeant and his officer about war and peace sets the tone and is ironic and bitter.

Meaningful lyrics help to accentuate the plot. The script and the dialogues are powerful in their political subtext. Arundhati Nag dominates in her role as Mother Courage even though the veteran actress had taken ill before the opening shows. Abhishek Krishnan as the ambitious older son plays his part well. He is full of energy and verve, symbolic of a young man, wanting more out of life. Bhavna Pani as the mute daughter rises above her meagre existence with that one gallant act when she saves the village from the onslaught of the enemies, only to lose her life in the end. Junaid Khan, Bollywood star Aamir Khan's son, who plays Mother Courage's other son, is still cutting his teeth. Theatre gives him the opportunity to experiment, just as this production, is in a long line of experiments. It is sincere but somewhat tepid. It nevertheless conveys the essential reflection that Brecht intended. His supreme heroine is one of the most complex figures that theatre has had. It is worthwhile to see her in this production by QTP in collaboration with Aadyam.

*Farida Khanzada is a senior writer in the entertainment industry. She has previously worked with Screen and has handled their theatre page.