---
Parul Rana





Direction : Lhakpa Tsering
Writer : Abhishek Majumdar
Cast : Kalsang Dolma, Tenzin Yonten, Tenzin Wangchuk, Youngkyar Dolma, Lhakpa Tsering, Tenzin Pema, Tenzin Lhundup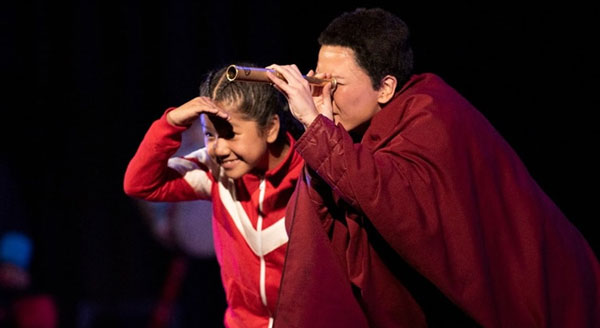 "What if they don't let you be what you want to be?"

"Maybe the problem is that the nation is being steered by too many fathers."

PAH LAK is a play based on real-life events from the 2008 Lhasa riots. It is performed by an all-Tibetan cast in Tibetan with English subtitles. The English play, written by Abhishek Majumdar is translated by Lhakpa Tsering, who has also co-directed the play with Harry Fuhrmann. This production is a work of collaboration between the Tibet Theatre and the Tibetan Institute of Performing Arts.

Pah Lak, which means father in Tibetan, tells the story of Deshar, a strong-willed woman who disowns her father to become a Buddhist nun. When a Chinese commander, Deng, launches a programme of re-education in the nunnery, it causes unrest amongst the nuns. The youth learn nothing about their culture or history but are rather forcibly re-educated in their political and religious beliefs. It also shows how the nation's youth experience an identity crisis as they struggle to discover who they truly are, whether Chinese or Tibetan.
When the nuns refuse to follow orders, the Chinese commander shuts down the monastery. Deshar self-immolates in an act of retaliation. However, she survives the act, embraces a path of non-violence, and impacts the entire Tibetan movement. "I just lit up. I did not burn."

The narrative focuses on the significance of Buddhism and the practice of nonviolence in the lives of Tibetans. It draws attention to the issues and atrocities the Tibetans are grappling with today. It also depicts the human side of the characters portraying Chinese commanders and avoids making it a show of good vs. evil.

The play's imagined universe comes to life with the use of authentic set design and music.The use of curtains as a backdrop and a projector is beautifully devised. The all-Tibetan cast and language further increase the play's power and enhance the experience of hearing the tale from those who have experienced these events first-hand.

PAH LAK is an intense, authentic, and powerful play that creates awareness about the situation in Tibet and the potential of non-violence to counter oppression.

*Parul Rana is a theatre enthusiast and movie buff.