Direction : Manoj Shah
Writer : Dhiruben Patel
Cast : Ridhhi Vora, Durgesh Rajput, Maulik Shah, Prakash Waghela, Prashant Savaliya, Nimesh Shinde, Rishikesh Chandarana, Manoj Shah


PAI PAI Play Review
---
Schedule
No upcoming shows.
Modern life in urban cities in India is all about consumerism these days. Even children and adolescents are not spared of its allure. Director Manoj Shah and writer Dhiruben Patel have tried to portray this contemporary reality in their play PAI PAI. With an element of fun coupled with a timely message, the play has some merits.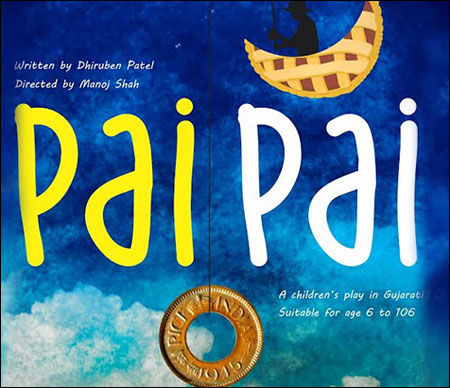 PAI PAI is about four kids - the three Mistry brothers - Vicky, Saras and Som - and their friend Pintu Shastri. Although Pintu is not related to the Mistrys, he is as good as their sibling. The play starts when the Mistry brothers are alone at home, along with Shastri. Their parents have gone for a trip. The kids aren't happy with the pocket money they have been given.

They want more money as they are eager to go out and have fun. They devise different methods to earn money but all in vain. One day, a complete stranger enters their lives and their home. But will he be their friend or their foe?

For the longest time of its duration, the play is a rib-tickler, and the laughter is completely whacky. Staging such a comedy is a challenge, especially with children as the target audience. But a fine balance is maintained between being entertainingly crazy and going over-the-top.

The entry of the old man (stranger) brings a halt to the fun somewhat but the light-hearted moments resume towards the end. The scenario created by the set designer is colourful and the pop singer Justin Beiber's poster stands out.

PAI PAI wouldn't have been so much fun and lively without the dedication of its four young actors - Durgesh Rajput (Vicky), Prashant Savalia (Saras), Prakash Waghela (Som) and Maulik Shah (Pintu). Their chemistry and co-ordination is impressive. Director Manoj Shah's appearance is the surprise element. He assumes the right mannerisms in the role of the Alzheimer-affected Dadaji.

Nimesh Shinde shows his talent playing three characters - Champak Kaka, Savai Lal and Sunil Bhai. There are some decent acts from Riddhi Vora as Krishna and from Rishikesh Chandrarana, as the dog shop owner.

Keyur Seta is a freelance film and theatre journalist and a blogger. For him, life is a stage where we all play our respective characters.