Poetry and drama are no strange bedfellows. Since the recorded beginnings of drama, the two have been merged with great results. Even when Plato whined about those mimetic ''poets'', the plays flourished. With the passage of time, drama began to approximate a more realistic language of everyday conversation. While there are instances of poetic drama in our day and age too, they are rare. We are parched for a deeper exploration of the poetic drama; of its musicality, of what Victor Hugo said, ''that which cannot remain silent.''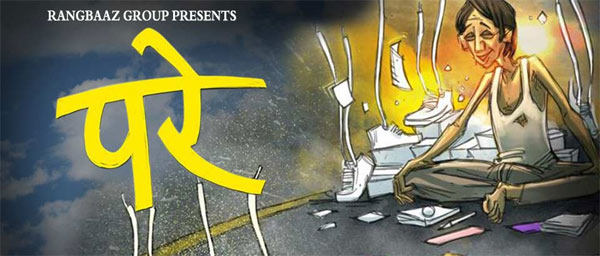 In PAREY, the second production by young writer-director Raghav Dutt, there is poetic investigation into the lives of everyday people. The theme is familiar. We follow the story of Niladri (Gagan Dev Riar), a writer, whose crippling insecurities keep him from producing any new work. He seems to be both fascinated with and terrified by all the ways he thinks life may hurt him. His brow is furrowed and his shoulders are hunched under the weight of incessant self-doubt. One wonders if he would ever again have put pen to paper if it weren't for the persistent goading of his close friend Vasu (Bhushan Vikas), an actor with whom he lives.

As Niladri loses count of the liquor bottles he is putting away by the hour, Vasu tries to find all manner of strategies to convince him to write another play. He tries to make Niladri see how his inaction is making a dud out of him. Niladri's agony is aggravated further by his failure to profess his love to Neha, another actor and friend who is never shy to extol the virtues of his poetry. Mallika Singh as Neha delivers well on the brief, in a supporting character, that is essentially the human manifestation of Niladri's desire.

The dialogue is agile, the banter engaging and cliches are subversively used. Niladri relents and gives the new play a go, though Vasu hinders the process with his own ideas and critique. The arguments grow increasingly bitter. Raghav Dutt's writing brings to life the bumpy dynamics of a close friendship between a writer and an actor. Gagan Dev Riar and Bhushan Vikas are in charge of their roles and are fun to watch in their respective characters as they confront each other like cheap fireworks that could spark or fizzle away. Their argument takes an ugly violent turn, and their relationship goes through a sudden and drastic change. During this time, Vasu gains an upper hand and Niladri is left very confused and vulnerable.

From then on the play floats through tunnels of fantasy and memory, coloured with a metaphysical tint. Niladri is shocked into action and begins to slowly confront the demons keeping him from harnessing his gifts. Niladri, along with Neha, and under Vasu's whip, begins to embark upon a journey of self-exploration through the new play that delves into his past, present and an uncertain future.

Gagan Dev Riar, who has proven to be a robust performer with earlier plays such as PIYA BEHRUPIYA and STORIES IN A SONG, is at home as Niladri. Audacious and unorthodox, he cries when you least expect him to and laughs in moments of cruelty - in a performance rich in flashes of brilliance. Despite initial spasmodic urges to cash in on surly humor, he is soon able to find an intimacy with the hefty lines.

The minimally designed living space, which doesn't serve much purpose otherwise either, does tend to come in his way as he stomps around like a tornado of drunken frenzy, and maybe an even sparser set would have been alright.

In its final act however the play begins to bloat ever so slightly. The shifting sequences and frequent turns in music aren't as gripping as the initial back and forth trajectory. The play within the play, which seems to be leading towards Niladri's release from his own shackles, doesn't fully take us there. True and heartfelt choices begin to be replaced with a touch of hysteria, in the last crucial few moments, as the direction steers us towards the peak note just a little too soon.

While we are left with a nice enough image of Niladri that has come full circle, we are left wanting both visually and metaphorically of an elevated self. This is but a small niggle in an otherwise finely executed play, which is a humorous and sensitive portrayal of a compelling personal tale.

*Saudamini Kalra is a student of theatre and occasionally a poet.