Direction : Naushill Mehta
Writer : Naushill Mehta
Cast : Ami Trivedi, Utkarsh Majumdar


Patra Mitro play review
---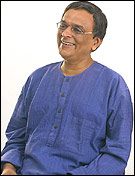 Two friends, lots of paper and sparkling conversations spanning decades form the subject of PATRA MITRO, a Gujarati play adapted from A.R. Gurneyís LOVE LETTERS. Writer/Director, Naushil Mehta knows how to spin a good story from snippets of information. Characters and events in the friendsí indefatigable exchange are recognizable but all have been subordinated to the fantastical yet poignantly real relationship between Kalpana (Ami Trivedi) and Jawahar (Utkarsh Majumdar). It is this creative cross-exchange between the imagined and the real that makes PATRA MITRO an engrossing play.

The dramatic device of simply using two chairs placed at angles with the two friends casting away each otherís letters as soon as they are read, works very nicely. At a level, one may wonder why such precious communication is cast away; on the other the act could be seen as symbolizing changing times in which nothing ever remains constant. The two friends too change over the course of time but they persist in their communication, sometimes effusive, at times curt and sometimes by simply being silent.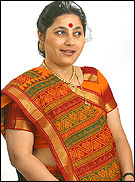 Both actors do their parts well although Ami Trivediís characterization of Kalpana is a little forced and stilted. She however must be credited for being spontaneous at the right places. Utkarsh Majumdar on the other hand retains neutrality, which is essential for the theatrical design of the play. At the same time, his body language and voice convey well the import of his character. Music and light design too complement the act of reading the letters.

The letters cover the panorama of human emotions and perhaps therefore the events that enfold in the lives of the two friends are gripping. In a dramatic vein, the ordinary is made extraordinary. The play as such could be said to offer Ďa slice of lifeí peppered with the right ingredients in the right proportion.