Schedule
No upcoming shows.
Motley's latest production stages an assortment of Stephan Leacock's short stories. Leacock, known as a humourist to the literary world, wasn't a playwright at all - his short stories can best be described as satirical bordering on the absurd, but still hilarious. He's not at all a writer vying for theatrical adaptation taking into account the subtlety of his humour. The situations, characters and themes are bizarre, yet Motley picks out his work, and takes on the challenge of making the writer's humour communicable.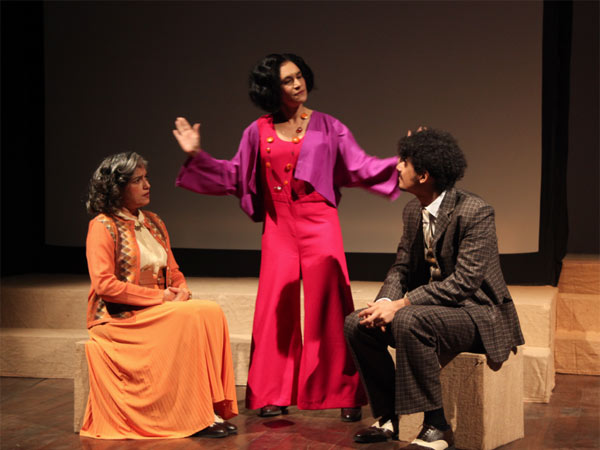 When young Vivaan Shah enacts the introductory piece - 'Borrowing of a match' - depicting the sorry plight of a young man asking for a light for his cigar on the street" the viewer is bogged down by the verbosity of the narrative. Ditto for 'My Financial Career', which relates how a small time investor (Heeba Shah) evades opening a bank account. By the times Ratna Pathak Shah takes centre stage with A, B, and C" describing the roles of these variables in Mathematics - a frown of disillusionment begins to appear on the viewer's brow. But very quickly, Ratna's deft dialogue delivery and some gimmicky shadow play of A, B, and C as characters suddenly infuse the proceedings with vitality and freshness. From here on the Shahs take charge; they are back at their business of engaging the viewer with their delivery.

Vivaan's presentation of 'The Conjurer's Revenge' is also engaging but of course the master stroke comes with Naseer playing out the 'Asbestos Man', which describes a future world full of hairless faces and asbestos suits - a world that has eliminated death and disease and birth as well. A world sans charm... such an unwelcome prospect.

The on stage bar that has necessarily no connection with the little stories, provides the necessary relief. The antics and quaint get-ups of the characters provide visual variety. The slide presentation is used as an effective backdrop. As a director, Naseeruddin comes up aces. Nothing contrived" the performances flow effortlessly. Sangram Soni's slides, Mervin D'Souza's costumes and Mihir Thaker's set design add vivacity to the little stories. It is a flawless production by the Motley family.

*Deepa Karmalkar is a film and theatre reviewer. She has been an entertainment journalist for over fifteen years.