Direction : Shubhrajyoti Barat
Writer : Asad Hussain
Cast : Suneel Sinha, Santosh Tiwari, Gopal Datt, Saurabh Nayyar, Harsh Khurana, Kumud Mishra, Avneesh Mishra, Benaf Dadachanji and Avantika Akerkar


SONG OF THE SWAN Play Review
---
Schedule
No upcoming shows.
There is something very ordinary when Harsh Khurana in his role as a negotiator (on the Indian side), much later in the play, talks of Hans Christian Ostro as being in 'the wrong place at the wrong time'. Facts can be dreary, but can contain simple truths, such as this one. Twenty years ago in 1995, Norwegian Hans Christian Ostro was kidnapped by a militant outfit in Kashmir called Al-Faran, which had also abducted five other foreigners. Clearly, Hans Ostro was in the wrong place at the wrong time.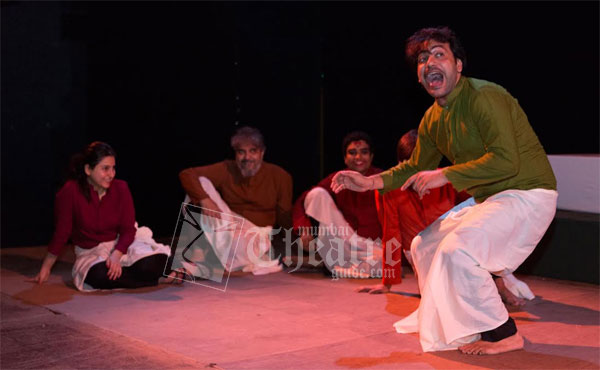 I like ordinary moments in the theatre but they won't pull off a show. The ordinary must be made extraordinary. Knot Theatre's, broad-stroked, collage-like reconstruction of Hans Ostro's journey in India till his fateful, tragic end in the Kashmir valley, summons the extraordinariness of one young man in a show that is deep with feeling. Writer Asad Hussain has done a good job of finding a story to tell in the fractured narratives from Ostro's life - getting an understanding of a person after he is dead, Mr Hussain says in his writer's note. Mr Hussain speaks of the senseless violence, of which his own family member has been a victim in other circumstances. His text is particularly moulded by philosophical wisdom in the best of Sufi tradition- Saurabh Nayyar's jester embodies this aspect. This is not heavy laden philosophy but cocks a snook at life; showing us the upside-down version of things - all the more raw and trenchant because this is Kashmir. We are yet again reminded that meaninglessness assumes a whole new meaning in Kashmir's context.

Poor Ostro. In one of his letters, he writes of how he was assured by his tour agency that there was nothing to worry about. He says he was not warned. Ostro had been in Kerala learning Kathakali. He was going to return to his native Oslo but goes to Delhi instead and makes the trip to Kashmir. Kashmir it seems was a spur-of-the moment call that young Hans would have made. He was as much it appears a man on the move as he was a man taken by the theatre. In the play we get a sense of Ostro's frame of mind from his mother, played by Avantika Akerkar, with a fine balance of restraint and emotion. Her English accent is accommodated in the exigencies of our theatre, although she is meant to be Norwegian. But there's a token irony in the situation and alluded to in the play- most Indians think of white men as 'English', and Hans must have felt this too. Similar accommodations are made for references to Kerala and later, Kashmir. The token Mundu is effectively converted into the scarf-like cloth worn around the shoulders of Muslim men.

Director Shubhrajyoti Barat in the well-honed Indian tradition of the simple, minimal, narrative theatre mounts the play; his actors smoothly make the transitions and play the individual characters with the proper sentiments as are required of their parts - Avneesh Mishra's videographer and Benaf Dadachanji's Kashmiri girl are among the other characters referenced for the play. Ostro's avatar as Bhima in his Kathakali get-up is made symbolic with the Kathakali mask and in another instance of a bull-head; an allusion to the tea-vendor's (Suneel Sinha) impression of Ostro's put-up performance in Kashmir, and from whom Ostro would order his 'Lipton tea'. Mr Barat takes care to even out the sentimentality his subject evokes with some degree of distance even though his investment in the production is personal. Mr Barat had a meeting with Hans Christian Ostro all those years ago, precisely in 1995 at Prithvi theatre and had known him and his plans. The story is no doubt sad - it is the story of a life of 'possibility and promise' snuffed out, and Mr Barat is in empathy. The endeavour is at best sketchy and is outstretched than substantial, but as Mr Barat puts it in his Director's note: a purging of the memory through the only way he knows - theatre. It is also in that sense a tribute from one theatre man to the other - and to his 'Swan Song'.

In a fine moment in the penultimate scene in the play, as hands are raised in the Koranic gesture for prayer when Hans meets his terrible death at the hands of his abductors, we cannot but be affected by the moment - glancing in our palms for peace and wisdom to prevail.

Deepa Punjani is the Editor of this website.