Schedule
No upcoming shows.
This play is a slice of contemporary urban life. Although set in Mumbai, it could be happening in any Indian city, irrespective of geography or culture. Meherzad Patel, is one of the wittiest writers around, specialising in what may be described as light, easy-going, Indian English theatre, streamlined by repartee. The swiftness of his craft and the spontaneity of his direction are evident in the way he ensnares the viewer into the play. He makes you live the parts without ever overtly coaxing you. You are caught unawares, and before you know, you are swimming with the flow of the story.

A happy-go-lucky lawyer in his sixties (Darius Shroff) is taking 'Facebook' lessons from his reluctant young son (Sajeel Parakh) , who is exasperated with his inquisitive, internet-challenged dad. The comic banter between father and son reveals the friendly bond between them. The most endearing aspect of their relationship is the informality and no-pretense attitude. Like good friends, they enjoy a cosy, emotional camaraderie.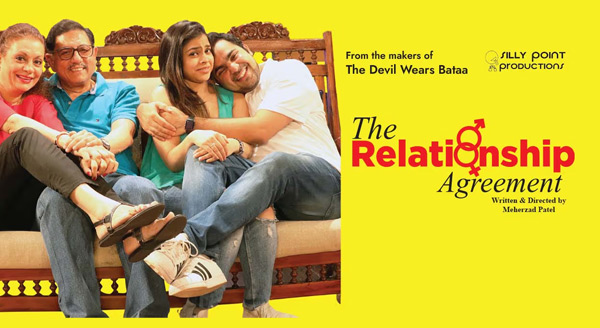 Dad takes to social networking easily, and very quickly befriends a lady on Facebook who turns out to be the mother (Meher Acharia-Dar) of his son's girlfriend (Sumona Chakravarti). While the older couple lets life take its course naturally and effortlessly, the younger couple is embroiled in a series of differences that they deem fit to resolve by entering into a 'relationship agreement' that defines their likes and dislikes and which lays out rules. Can the young couple really stick to this contrived agreement?

Sajeel Parakh's hilarious enactment of the midnight visit to the washroom without disturbing his ladylove makes for an absolutely delightful watch. The intermittent visits of the cast to the balcony, which serves as an emotion outlet booth, laces the comedy with a tinge of seriousness. ''Together forever, however...'' is how the young hero declares his love in one of those balcony moments.

Sumona Chakravarti as the defiant girlfriend, Sajeel Parakh as the doting lover, Darius Shroff as the wise and witty dad and Meher Acharia-Dar as the concerned yet carefree mom of the girl are absolutely spontaneous in their roles. They bring fluidity to this easy, breezy comedy.

Writer Meherzad Patel uses his creative license to amuse unabashedly: pitching first and second-class fliers, Mumbaikars vs Delhiwallahs against each other. As a director, his flashbacks to the lovers' first meeting mid-air on a flight, and also to their comical movie date appear very smoothly without disturbing the flow of the play. The spilt popcorn from the movie date scene, however remains strewn on the carpet throughout the play!

The set is functional, as is the lighting. Everything just falls in place naturally to keep the audience engaged. The play is almost like a stand-up comedy - it keeps you amused all through.

*Deepa Karmalkar is a film and theatre reviewer. She has been an entertainment journalist for over fifteen years.