Direction : Divya Jagdale
Writer : Shiv Subrahmanyam
Cast : Jaimini Pathak, Divya Jagdale and Shiv Subrahmanyam


TOXIC Play Review
---
Schedule
No upcoming shows.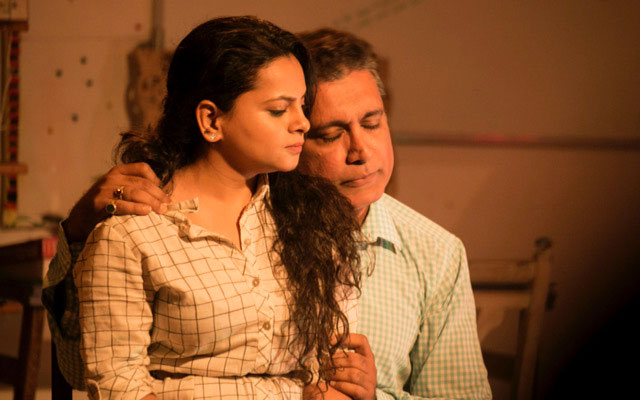 Rajat and Akshay are squash buddies carrying their own baggage as they go khatak and fhatak smashing the ball that the game deals them with. Rajat is Khatak, a freethinking writer with a wry smile as he watches his opponent bludgeoning a losing fhatak to his dexterous khatak. But Akshay, the stocky fhatak, manages to surprise Rajat as the game progresses. Or does Rajat allow his Khatak to weaken? An endearing motif, if there was one, is 'at play' in TOXIC.

Smita and Sushmita are equal victims along with their squash playing husbands. Smita is also the subject of Rajat's new book which explores the impermanence of relationships, the demise of love and the need for fresh beginnings. Smita longs physical contact while Akshay and Sushmita display a desperate urgency, nonetheless betraying the deterioating hollowness of their relationship. They too are struggling.

The play opens with a pair of intertwined jump ropes lying on the floor with each end pointing towards each actor, bringing to life the philosophical dilemma of a harmless rope assuming more sinister proportions.

Is it a rope or is it a snake? Each character agonises in helpless attempts to circumvent its tenacious coils. Should they play 'jump' and liberate themselves, or should they writhe in agony allowing themselves to get constricted by that mangy invertebrate?

Is a relationship with an intellectually inclined partner always more draining than one with a "regular guy with a regular job and a couple of regular children?" Or does the "regular" family portrait mesh incongruently with the toxicity of its burdensome expectations?

TOXIC is a dark piece of writing by Shiv Subrahmanyam dealing with angst, loneliness and unfulfilled expectations in two relationships within an urban setting. Amruta Sant plays her role as the unfulfilled wife and mother of two with a disarming sweetness, distracted quite often by an unruly dupatta. Aseem Hattangady is energetically unfulfilled while Jaimini Pathak plays the unfulfilled and sardonic writer with a pleasantly casual air.

This is a minimalist production. The writing is taut and the performances are energetically held together by the four actors on stage. This is a kind of 'Ugly' (with reference to Anurag Kashyap's film) that you may want to experience in a contemporary stage setting that Divya Jagdale in her director's role, has experimented with.