Direction : Zameer Kamble
Writer : Saggherr Loadhii
Cast : Kedar Joshi, Santosh Mahadeo, Snehal Jagdale, Saurabh Godbole, Amol Mathe, Vishal Patil, Ranjana Bansode and Vijay Gaikwad


TUTAK Play Review
---
Schedule
No upcoming shows.
TUTAK, which transliterates as broken, talks about bisexuality. A young man is simultaneously in love with a man and a woman. Writer Saggherr Loadhii has explored gender issues in his earlier play HIJDA. He returns this time picking up new threads of the forbidden topic of sexual identity.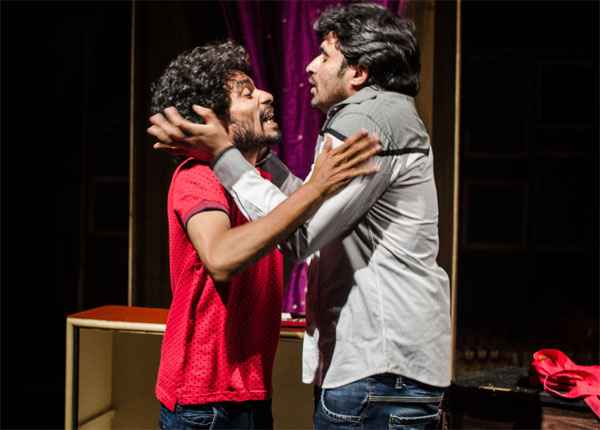 The story is about a bunch of young men who are sexually involved with one another. Of this bunch, Malhar has a dominating father who has forced him to join his readymade shirts' shop. Seemingly heterosexual, Malhar has a drunken sexual encounter with Niko, a gay man one day. Their affair blossoms but Malhar is too scared of his father to admit his homosexual leaning and ends up 'seeing' the girl that his father has approved of. Quite alarmingly, Malhar finds himself attracted to his prospective bride, Kaveri.

As luck would have it, Niko gets a scholarship to study in the USA for a year. With Niko gone, Malhar marries Kaveri and leads a 'normal' life much to his father's pride. But one of his other homosexual friends, Madhur, when forced into marriage - commits suicide just short of the wedding. At this very juncture, Niko reappears on the scene! Torn between two true loves - Malhar is on the horns of a dilemma. Which side will he choose now? The writer poses a poignant query.

Sex is still a taboo topic in our country and sexual orientation is a no-no topic brushed under the carpet and stigmatised by an outdated law of the Indian Penal Code. Such plays will hopefully sensitise people to the different natures of sexuality. Shady gay bars or discos are certainly no places of rendezvous for two lovers - whatever their sexual preferences.

The actors play out their roles convincingly, sealing it with a man-man kiss on-stage. But none of the banter or intimacy between the men makes you cringe; it is so easy-going and at times, funny too. Kedar Joshi's portrayal as the bisexual caught up between two lovers is very natural while Santosh Mahadeo's Niko is very endearing. You can fall in love with Niko; with his creativity and most of all his naivete.
The standout scene is certainly where Niko is about to propose to Malhar to be his Valentine - complete with a greeting card and a ring! It was a touching scene.

The production is well directed, and has a cleverly designed set that turns into Niko's bachelor pad / Malhar's drawing room/ the restaurant and the gay bar with least fuss. Though minimally used, the music has a profound effect in the play. For anyone who is interested in the gay and bisexual psyche, this play is worth a watch.

*Deepa Karmalkar is a film and theatre reviewer. She has been an entertainment journalist for over fifteen years.