Direction : Murtuza Kutianawala
Writer : Abhishek Pattnaik
Cast : Abhishek Pattnaik & Karan Bhanushali


TWO ADORABLE LOSERS Play Review
---
| | |
| --- | --- |
| | TWO ADORABLE LOSERS Review |
Schedule
No upcoming shows.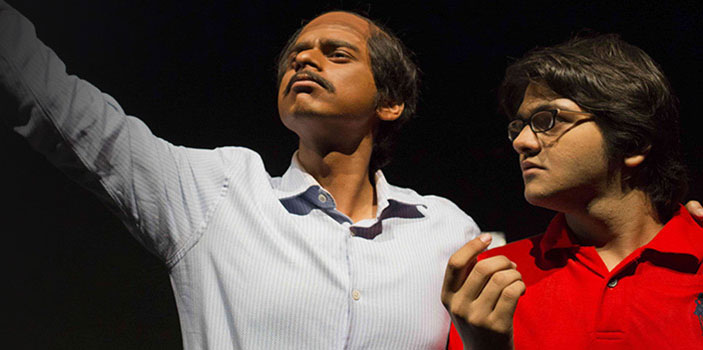 The play kick started its New Year with the staging of its 50th show at the NCPA. It could be slightly unnerving, right at the outset, to watch an ungainly, balding Professor Jolly Mahapatra (Abhishek Pattnaik) with an over-pronounced Odiya accent, warding off unruly students booing him. They heckle him unsparingly and oh-so-predictably as 'Baldy'. The Statistics Professor squares his shoulders, hitches up his trousers - a la Boman Irani's "Virus" in the Aamir Khan starrer 3 Idiots - and marches ahead nonchalantly. That, by the way is loser no. 1 - by no means adorable as yet.

Enter a nervous and fumbling collegian (Karan Bhanushali), the butt of all college jokes, and to top it all, he's flunked his Statistics paper. Yes, you guessed it - that's the second of the titular losers. The two awkward men are thrown together by sheer circumstance. The Professor must coach the failing student, and the student must help the Professor deliver a flawless speech at a college function. The play unfolds with their hilarious interaction, which matures into a unique bonhomie between two lonesome men. One however wishes that the monotony the play assumes could have been broken by introducing some colourful characters - perhaps even "Deity Mangalla" - to whom the Professor is dedicated. There are some memorable light-hearted moments like the recurrent reference to the "trustees of the college" as the de facto shot-callers, their first meeting at the Professor's home that has the student Akshay squirming under his teacher's over- attention and mistaking it for a homosexual proposition.

Notwithstanding the linear progression and the predictability of the plot, the play benefits from the youthful vigour of the director's (Murtuza Kutianawala) experimentation with spotlighting the characters. Never mind the tacky make-up or the over the top caricature of the Professor. The charm of the play is in its simple narrative and the sincere acting of the two actors, as the 50th show booked to capacity proved.

*Deepa Ranade is a film and theatre reviewer. She has been an entertainment journalist for over fifteen years.