VAAR SATRAH BAAR Play Review
---
Divyani Rattanpal





Direction : Alakshendra Prabhakar
Cast : Kunal Hriday, Swaroop Chowdhury, Vayam Performing Arts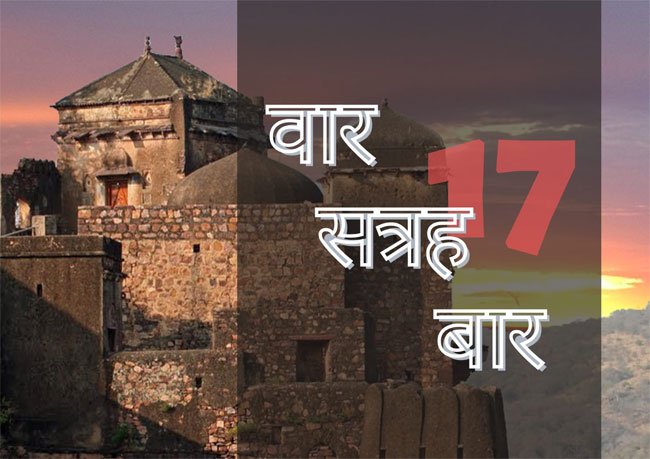 For a country with a shadowy imperial past, the valorisation of kings that its collective consciousness is fed, is mind boggling.

Monarchy may have been abolished, but narratives will still bow down to the might of a crown.

But what if a narrative, guised under the tale of a king's life, is used to end the servile and feudal mindset once and for all?

This is the philosophical underpinning of VAAR 17 BAAR, a poetical rendition of 17 poems on valor, weaved together with the stories of Indian kings.

17 is a strange numerical occurrence in kings' lives. Mohammad Ghori, for instance attacked Prithviraj Chauhan's kingdom 17 times. Maharana Pratap's guerrilla army attacked Akbar for 17 years, after which he died.

The experimental theatrical poetry drills down this number in the audience's psyche, by using dramatic storytelling to weave an epic tale of persistence from a king's life, who after losing his kingdom and fighting 16 failed wars, is attempting to win it for the 17th time.

Fired up by war psychology, VAAR 17 BAAR is a potent arrow - with its all-guns-blazing writing and a power-packed narrator - it aims straight at the psyche of the watcher.

It's perhaps the first time a make-believe king would have empowered his subjects (the spellbound audience in this case) to aspire to the crown of greatness.

The main narrator Kunal Hriday has no chinks whatsoever in his performer's armour. Very rarely do you meet an artiste who feels the lines, instead of regurgitating what they learnt by rote in the exam, err play.

Hriday makes the lines so much his own that with him guiding the two hour flight of fantasy like an adept pilot, the performance is elevated.

Battling some persistence issues on a personal scale, I must confess I alternately cried and clapped during the two-hour performance. With each defeat I sank into my seat. But with the final triumph, I felt like a Phoenix myself!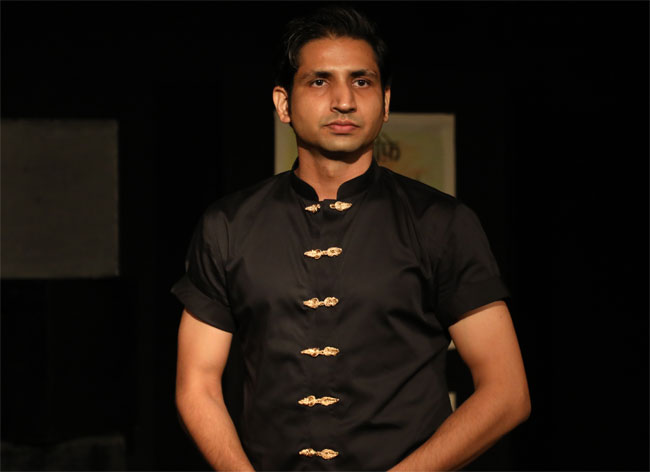 Perhaps it had something to do with the production design, which incidentally, had a painting of a Phoenix upstage.

"This is a kind of shadow play with strong currents of non realism," director Alakshendra Prabhakar explains. "Just as director Devendra Raj Ankur ji developed the storytelling theatre, this is poetry theatre."

A Masters in Theatre Arts, Prabhakar believes that if rich Indian poetry can be amalgamated with theatre, then the latter can emerge as a much stronger art form.

The point is echoed by Hriday, who also doubles up as the writer of the play.

"Akin to Urvashi by Ramdhari Singh Dinkar, wherein the poem may be about a man conversing with a woman, but ultimately it is a dialogue between the man and his mind, here too the dialogue is between the stronger self and the weaker self present in each human being," Hriday shares.

Having delved into the text for two years, Hriday had just one aim: to develop a comprehensive text on the psychology of winning. Hriday and the team succeed, and how.

By tapping into the deepest emotional core of defeat and the persistent efforts to overcome it, he tells the story not just of a king, but of other lesser mortals too.

"The same emotions that the king feels, the same emotions are felt by you too."
Hriday is right.

Although what makes VAAR 17 BAAR different is that it never says the king will save you. But that You will save yourself.

*Divyani has worked as a journalist for The Quint, where she was also among the Founding Team members. While there, she also hosted and produced a podcast and fronted several standups. She's also worked for The Times of India group. She's now a theatre and film actor.



| | |
| --- | --- |
| | VAAR SATRAH BAAR Play Schedule(s) |
No upcoming shows.