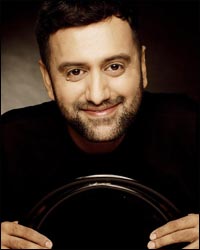 Which is the last best play you saw and why?

The Manipal University's college production for Aaina Dramatics - ONE FLEW OVER THE CUCKOO'S NEST. For a bunch of college students/amateurs to put in so much passion and effort for such a serious play, hats off!

Your favourite adda to see a play

Museum theatre, Chennai.

Your favourite play-character

Andrew Ladd from AR Gurney's LOVE LETTERS (I have played this role)

A play you would like to see filmed. Why?

LOVE LETTERS - because that world of writing letters to each other and sharing memories through handwritten words is fast disappearing.

A novel/short story you would like to see on stage? Why?

The Great Indian Novel by Shashi Tharoor. What a fantastic idea to juxtapose the Mahabharata with the Indian freedom movement.

The most hilarious play you have seen

I don't like to watch comedies.

A play, which is over-hyped

The production of A MIDSUMMER NIGHT'S DREAM, directed by Tim Supple.

An important play (but ignored)

Awesome plays were written in the 60s and the 70s by K. Balachander (the man who introduced Kamala Hassan and Rajneekanth), which our generation is missing out on.

A play character you would like to "dialogue" with...

Jinnah from Dr. Narendra Mohan's play on Jinnah.

A classical play that you should have read

Doctor Faustus by Christopher Marlowe

A play that changed your perception about the theatre

THE 39 STEPS by Evam, Chennai.

How do you regard the Mumbai theatre scene?

Don't know much about it as I am from Chennai.

Have you read any interesting books/articles concerning the theatre? Why did you find them interesting?

Augusto Boal's writings. They are raw and talk about the application of theatre techniques which I seem to believe in. Theatre of the oppressed by Baol, is ground breaking work.

If you have ever been a part of a theatre production/s, can you recall an event that was insightful, significant or simply humorous?

Too many to illustrate because of 18 years of experience ☺

Can you think of a foreign production that you found remarkable? Why?

COMEDY OF ERRORS, by the Royal Shakespeare Company (RSC) for their sheer professionalism and stagecraft. Also, The Hitler monologue by Paul Webster at the Edinburgh fringe. The actor's phenomenal performance kept us riveted for an hour.

Your favourite director/actor/music or set designer

Mithran Devanesan - set designer and director.
Zohra Sahgal - actor.
Anil Srinivasan - music.

A significant Indian production that you may have witnessed

MERCY by The Madras Players - it was gripping to see a Tamil work done so well, especially on a subject like euthanasia.

Life in the theatre without the humble batata-wada or the cutting chai... or can you recall the best gastronomic experience you've had in the precincts of the theatre to date?

Sabudana-wada at Ranga Shankara, Bangalore.