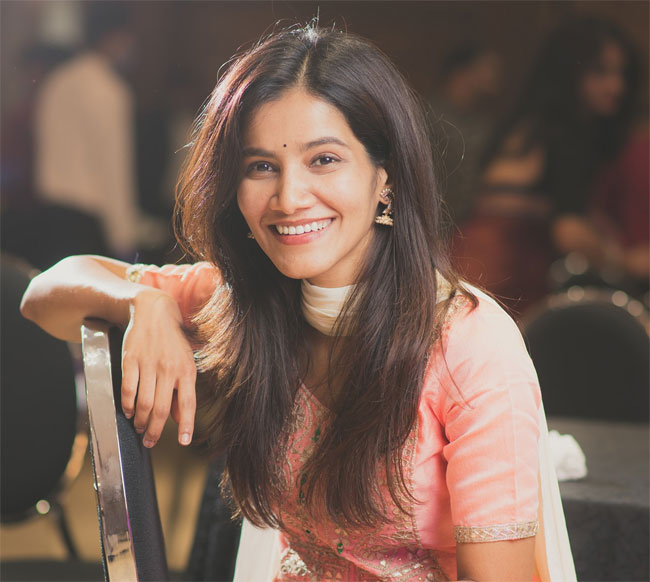 Which is the last play you liked and why?

Before lockdown, I saw KRISHNA and GANDHI (monologues) by Makarand Deshpande.

Both the plays are on completely different topics as its names say all. I loved the text of both. Some of the lines from those plays, especially KRISHNA will remain in my mind forever... when Makarand sir performs on stage it become so real. And he always mesmerizes everyone with the quality of becoming one. Watching him on stage is a most exquisite experience..

Your favourite adda to see a play...

Prithvi Theatre

Your favourite playwright...

Vijay Tendulkar, Makarand Deshpande, Mangesh Kadam, Prajkt Deshmukh.

Your favourite play-character...

Fanidhar in Sir Sir Sarla, by Makarand Deshpande.

A play you would like to see filmed. Why?

SANGEET DEVBABHALI, by Prajkt Deshmukh. Today when Marathi cinema is known for its content, I would love to catch the essence of the play SANGEET DEVBABHLI on celluloid. It's a play with its own unique flavor. A period drama with just the two characters on stage, their emotions, their conversation, is one of its kind. It would only be a treat to watch this play turned equally effectively into a film.

A novel/short story you would like to see on stage? Why?

In Marathi many short stories of Vapu Kale.

The most hilarious play you have seen...

SAHI RE SAHI and Locha Zalare by Kedar Shinde, EKA LAGNACHI GOSHTA by Mangesh Kadam

A play, which is over-hyped...

All big productions which have high ticket rates

An important play (but ignored):

SPOT ON by Makarand Deshpande. I was part of it. The story was about a scientist who had been shot by political goons for saying the truth. He is paralytic but alive and what are the consequences for that scientist and his family. It was a play which was making an audience hear, feel, think and wake up. As per my understanding it was an important play as it was about social values.

ISHK AAHA directed by Gagan Dev Riar and Sukhant Goel. It was a beautiful musical play performed by extremely talented actors and singers-- one of the best production I have seen by young performers.

A play character you would like to "dialogue" with...

Sir in Sir Sir Sarla.

A passage from an important play that you can recite...

Recently I was preparing a monologue of AJGAR ANI GANDHARVA by Vijay Tendulkar. So can recite that.

A classical play that you should have read...

All plays by Vijay Tendulkar

A play that changed your perception about the theatre....

JOKE and MA IN TRANSIT by Makarand Deshpande

Have you read any interesting books/articles concerning the theatre? Why did you find them interesting?

Laman Shriram Lagoo., Natakvala article series in Loksatta written by Makarand Deshpande.

Series of 50 articles about his 50 plays. hile reading those I got feeling that I am actually witnessing the process.

Can you recall an event that was insightful, significant or simply humorous during your theatre journey?

There are many.. Every time we go on the stage. I feel it gives a feeling of contentment. That feeling is actually unexplainable, can't put it into words. Always it's an evolving insightful journey, at the same time a divine experience... I had been a part of a theatre workshop for kids with Makarand Deshpande; on the last day of a workshop we were having an interactive session with all those kids, we noticed that one kid had a stammer. We were shocked to see that, because it's nearly impossible for such things to go unnoticed while working on participant's development. The kid had not stammered ever before that session. As I observed him further I was left in awe. The kid stammered only during interactions and never did so while delivering dialogues or performing anything. That was some enlightenment for me. It made me realize once again that when you do something you truly love like practicing theatre or any art or anything for that matter, you just knowingly or unknowingly magically overcome any obstacle to follow or pursue your passion. Such is the strength of an art. I'll never forget that moment. And of course there are many humorous experiences also.

Can you think of a foreign production that you found remarkable? Why?

I have not seen, yet

Your favourite director/actor/music or set designer...

Favorite director: Makarand Deshpande, Mangesh Kadam, Kedar Shinde, Advait Dadarkar

Actor:Ayesha Raza Mishra, Divya Jagdale, Makarand Deshpande, Naseerji (Shah),Sanjay Dadhich

Set designer: Teddy Maurya, Pradip Muley, Devashish Bharavde

Music composer: Shailendra Barve, Ashok Patki

A significant Indian production that you may have witnessed.....

RANANGAN directed by Waman Kendre, KARODON MEIN EK and MA IN TRANSIT, by Makarand Deshpande, Motley's THE FATHER.

Life in the theatre without the humble batata-wada or the cutting chai... or can you recall the best gastronomic experience you've had in the precincts of the theatre to date?

Yes theatre rehearsals and shows can't be completed without wada and chai. I am a foodie in my own way. My choices as far as food is concerned are not at all specific but yes, whenever I travel to any place for shows or shoots I make sure I have my fill. All you have to do is mention the specialty (be it a local street food or exclusive high cuisine) and it goes straight to the top of my 'To Do' list. I love food and belong to the Live To Eat category. Sometimes with my foodie mode on, you can even catch me planning for what to eat post rehearsal or show. Loved the food from Jaipur, Delhi, Tirupati, Pune, Nashik, where I had been traveling for play tours.
""