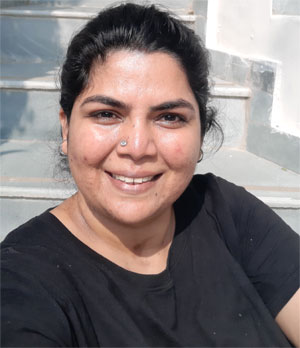 Your favourite adda to see a play...

Prithvi, Tejpal and Shivaji Mandir

Your favourite playwright...

Tendulkar in classics, Neha Singh, Pritesh Sodha, Niketan Sharma in contemporary times

Your favourite play character...

Fanidhar in SIR SIR SARLA

A play you would like to see filmed. Why?

PIYA BEHRUPIYA. Because I want it to be accessible whenever I feel like it. It's a joy ride!!

A novel/short story you would like to see on stage? Why?

Begums of Bhopal. It's an intriguing subject.

The most hilarious play you have seen...

NOISES OFF and PIYA BEHRUPIYA

A play, which is over-hyped...

Oops! CHUHAL, maybe?

An important play (but ignored):

SHIKHANDI

A play character you would like to "dialogue" with...

Shikhandi

A passage from an important play that you can recite...

WHOLE SUM PARTS

A classical play that you should have read...

Some by P.L. Deshpande, Elkunchwar, Ibsen,Tendulkar and Shakespeare

A play that changed your perception about the theatre...

TEE (Marathi)

How do you regard the Mumbai/Indian theatre scene?

It's at the cusp of something really Big that's about to happen

Have you read any interesting books/articles concerning the theatre? Why did you find them interesting?

This season I read a book on the struggles of staging a show like SAKHARAM BINDER. Book called Binderche Diwas. It's a close reflection of what's happening in our contemporary society too.""