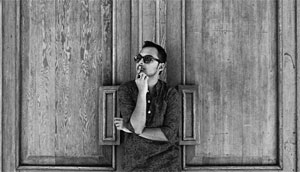 Which is the last best play you saw?

Rajat Kapoor's I DON'T LIKE IT AS YOU LIKE IT. It is an excellent production with such nuanced and controlled performances even though everyone is playing a clown. The balance between control and commotion was beautifully executed.

Your favourite 'adda' to see a play?

I watch plays everywhere and every space is equally enjoyable and important to me. But like every theatre wallah, Prithvi is like coming home, and not only to watch plays. I do weekend (early morning) acting workshops on the beach and then we hang out at Prithvi, do breakfast, have chai, read books...it is quite a ritual now.

Your favourite playwright?

William Shakespeare. The man was a master at crafting dialogue (and monologues too, of course – no one has written monologues as powerful as his to date), designing an entertaining narrative with appropriate breathing space and comic relief (in his tragedies) so that the audience isn't overwhelmed or bored, creating layered and complex characters and telling stories that are timeless and conveying emotions that are universal. He is truly the master.

Your favourite play-character?

Lady Macbeth from MACBETH and Mark Anthony from JULIUS CAESAR by William Shakespeare and Sweeney Todd from SWEENEY TODD: THE DEMON BARBER OF FLEET STREET by Christopher Bond.

A play you would like to see filmed. Why?

Rabindranath Tagore's VISARJAN. The play is adapted (by Tagore himself) from a novel of his, 'Rajarshi', and the novel is so outrageously cinematic with descriptions of sweeping long shots and dramatic sequences. Hence, Tagore himself realised that a certain section of the novel is dramatic enough to become a live performance piece. Cinema, of course, allows the text to be mounted on a much more expansive canvas, which the play deserves. Also, the core message of the play - a commentary on the politics of religion and futility of blind faith - is always relevant.

A novel/short story you would like to see on stage? Why?

Every short story and sketch by Saadat Hassan Manto should be staged. They are such wonderful pieces, which oscillate between wit and deep pathos. They could make for a wonderful anthology of 4-5 short plays. And Manto, being a scriptwriter himself, knew how to make his shorter fiction pieces visually malleable and appealing. You can pick up any of his pieces and stage them.

The most hilarious play you have seen

I am not a fan of comedy, so I don't seek out comedy plays and go to watch them. I remember watching THE CLASS ACT by Meherzad Patel, and quite enjoyed it. But that is not my kind of humour. I enjoy dark dry British humour and that is not something you see in our country.

A play, which is over-hyped

I think ''hype'' happens for a play (even though ''hype'' is a great thing for a play, considering that plays don't enjoy as much audiences than they should) when specific actors are in a play or a play has fantastic promotions and financial backing. While on the one hand, a play like the VAGINA MONOLOGUES has basically been reduced to a story telling session (the actors seem bored and tired themselves these days). BLAME IT ON YASHRAJ still finds audiences, which is mind-boggling. But then again, BIOY is like the Happy New Year of Bombay theatre. People will pay big bucks for a commercial no-brainer and make an evening out of it. What is disappointing is that the casts of both the plays consist of some fantastic veteran actors. I just wish they spent their time and energy working on a better production.

An important play (but ignored)?

KKNOCK KKNOCK by Pankaj Singh starring Hasan Zaidi and Rajesh Khera. It is an adaptation of SLEUTH by Anthony Shaffer and is possibly one of the best productions I have seen in this country. Also, Hasan Zaidi delivered an unforgettable performance in the play. I don't know why that play did not become as famous as it should have, nor did it do more shows. To stage a tight and compelling thriller on stage is such a challenge and this play did a fantastic job.

A play character you would like to ''dialogue'' with

Hamlet, because I always feel that only if someone sat him down and tried to hear him out, make him talk, he wouldn't have spiraled out of control. Also, Professor Henry Higgins from Shaw's PYGMALION would be wonderful to have a cup of tea with.

A passage from an important play that you can recite

Mark Anthony's speech, ''Friends, Romans, Countrymen'' from JULIUS CAESAR and most of Macbeth's monologues. There was a time when I set a goal for myself to know the whole of MACBETH by heart. I did try as much as I could.

A classical play that you should have read

Plays by Euripides and Aristophanes. I have read LYSISTRATA by Aristophanes and I am dying to stage it someday. It is such a powerful play.

A play that changed your perception about the theatre

I remember watching Nandikar's MEGHNAD BODH KABYA in Calcutta many years back. It was a 2-hour production based on Michael Madhusudan Dutt's epic poem about the death of Meghnad, Raavan's brother and it was being performed by just one actor, Gautam Haldar, a Bengali theatre veteran. I remember sitting in the audience, mesmerised, wanting to be him. I was almost jealous of how talented he was, how talented the director was...and the fact that they could somehow make such a dated text socially relevant to contemporary times, blew my mind. That is the kind of theatre I wanted to do - classical technique, modern interpretation, contemporary adaptation.

How do you regard the Mumbai theatre scene?

Firstly, theatre spaces need to reduce rental prices. Theatre wallahs cannot afford an NCPA or Andrew's or Sophia's and neither do these guys need to suck us dry. It is this vicious cycle which leads to the poverty of imagination in our theare circuit. We cannot dream of big productions because we put together all the money we can just to pay for the stage. How will we ever do big productions when we don't have the money to even create a set? That is the reason why a Prithvi is so much in demand (and hence, has a waiting list). It is great that new spaces have opened up. G5A is only the second black box stage in the city. We need more. We need smaller stages to be given the same kind of respect Prithvi gets. People have this odd mindset that Prithvi is equal to quality or fame. That is utter bullshit. I opened my last play CHAARPAAI at Sathaye Auditorium and it is such a wonderful old school Indian theatre stage. The Drama School has been doing such fantastic work at AN Bhalerao. We need to find new spaces, or re-establish older spaces and give them the same respect that bigger stages get. Only then, will more theatre be generated, young groups will be able to dream bigger, create better productions and not have to worry about how to put together that obnoxiously hefty rental. Having said that, there is a dearth of original writing in the city and that is something theatre companies should focus on too.

If you have ever been a part of a theatre production/s, can you recall an event that was insightful, significant or simply humorous?

Every production is a bundle of experiences that change your life. I remember my father training me in diction and clarity for my first stage act when I was 5 years old. I remember my actor's training for Peter Weiss's MARAT/SADE which we opened in 2014. The play required so much grueling research and understanding of psychological disorders and political ideologies that some of them have been scarred for life. I have seen people breakdown, have a breakthrough, find solutions to their questions...

Can you think of a foreign production that you found remarkable? Why?

THE PHANTOM OF THE OPERA and LION KING on Broadway. The massive scale, the sheer canvas, expanse, the music, the choreography...they were unforgettable experiences. They are the kind of theatre every theatre maker one day wants to do.

Your favourite director/actor/music or set designer

Director - Sunil Shanbag
Actor - Nagesh Bhonsale, Jim Sarbh, Anand Tiwari, Rajit Kapoor, Trupti Khamkar
Music - I loved Aneesh Pradhan and Shubha Mudhgal's work for Sunil's STORIES IN A SONG

A significant Indian production that you may have witnessed

Sunil Shanbag's S*X, M*RALITY AND C*NSORSHIP. It is one of the most important modern Indian productions. Everyone should watch it.