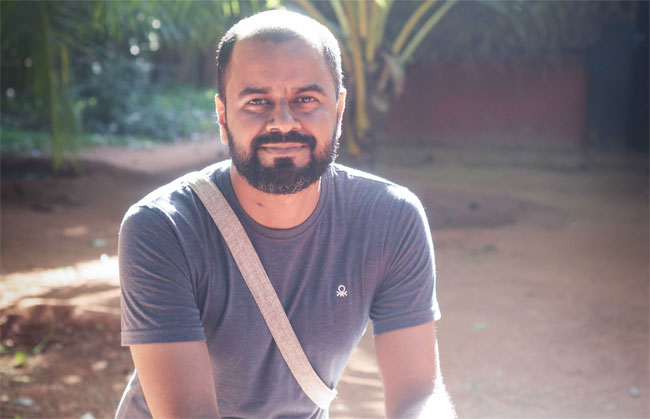 Which is the last good play you saw and why?

Sharanya's AKSHAYAMBARA...the visuals, the minimalist subtitles, amazing transformation and vibrant presence of Prasad (I think that's the name of the talented male actor) and Sharanya on stage, the dance, the music, the colours -- everything was mind blowing.

Your favourite adda to see a play...

I loved the Mahim Municipal School where Awishkar used to stage its plays till 2008 (maybe they continued longer but I stopped going post 2008)...it had no AC, no proper chairs or seats, no clean washrooms, yet had a different energy and vibe...Otherwise - Prithvi, NCPA, Shivaji Mandir, Yashwant, Ravindra, Dinanath in that order

Your favourite playwright...

Vijay Tendulkar

A play you would like to see filmed. Why?

No. I think a play loses its character and magic once it is filmed. Also the whole idea of watching it 'live' makes it a 'play'.

The most hilarious play you have seen...

JUNGLE MEIN MANGAL directed by Chetan Datar

A play, which is over-hyped...

Many :)

An important play (but ignored):

MAATA HIDIMBA by Chetan Datar

A passage from an important play that you can recite...

Tula shikvin changlach dhada - P L Deshpande - TEE PHULRANI by Bhakti Barve (only in private mehfils:)

A play that changed your perception about the theatre....

Motley's MANTO ISMAT HAAZIR HO

How do you regard the Mumbai theatre scene?

It's like Mumbai -- diverse, colourful, busy, scattered

Have you read any interesting books/articles concerning the theatre? Why did you find them interesting?

ZIMMA by Vijaya Mehta - yet to start reading

If you have ever been a part of a theatre production/s, can you recall an event that was insightful, significant or simply humorous?

We have a theatre production called Sangeet Bari, which chronicles traditional lavani artists lives, their real life stories and live performances which mesmerise the audience. Once we had a Brazilian tourist who watched it. He was visiting India for the first time and did not understand Hindi or Marathi. Yet, after the show, he met us and told us what he understood. Like many people, he had immensely enjoyed the captivating, raw magic of live lavani and the seductive interactions. But to my surprise, he had also understood even the nuances of the narratives part which is purely verbal with no enactment or dance. When I asked him how did he understand all that, he said, only by listening to the sound of the words, the facial expressions and the overall energy of the audience in the auditoriums. That's when I realised how a true connoisseur of theatre can grasp even the slightest emotions just by observing everything around him in a sharp manner.

Your favourite director/actor/music or set designer...

Oh there are many...I loved Chetan Datar's experiments - also Sunil Shanbag's SEX, MORALITY, CENSORSHIP, DREAMS OF TALIM AND COTTON 86 POLYSTER 64....I love background scores and aesthetics of Mohit Takalakar's plays, loved Puja-Sheena's Gentlemens Club for its music and set.

Life in the theatre without the humble batata-wada or the cutting chai... or can you recall the best gastronomic experience you've had in the precincts of the theatre to date?

I am a big foodie...and enjoy the wadas and samosas and chais which you get in any theatres -- but honestly I feel Mumbai theatres are over-hyped for their food ..or maybe we tend to find the food better since it's a part and parcel of the overall experience of watching a play....but I seriously enjoyed food at the following seven places....every time it was during our play Sangeet Bari 1. Sitara Studio, Ddadar...the lunch that we got nearby for our team was fabulous - it was a basic, Marathi style thali consiting of chapati, bhaji, daal, bhaat, pickles, papad and salad. but what taste - and what price (Rs 50 a plate) maybe the producer in me was over-satisfied; 2. Rangashankara, Bangalore; 3. Untitled Arts, Banaglore; 4. Rangayan, Mysuru; 5. Adishakti, Auroville; 6. Lokmanya Rangamandir, Belgaum; 7. Savarkar Natyagruh, Ratnagiri. All the snacks and meals and chais they serve are simply divine. I would visit them anytime just for that..... But then I'm biased towards South Indian and Marathi food.
"