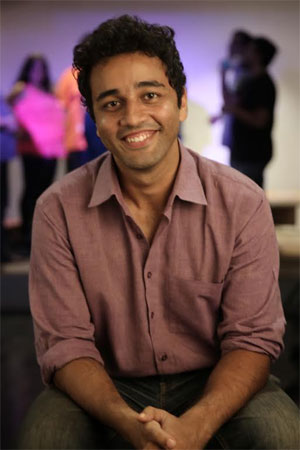 Which is the last best play you saw?
LOITERING directed by Satchit Puranik. A brilliant example of documentary theatre!

Your favourite 'adda' to see a play
Prithvi Theatre. Always

Your favourite playwright
At this time, it's Samuel Beckett

Your favourite play-character
The Valet from NO EXIT by Jean-Paul Sartre

A play you would like to see filmed. Why?
SAKHARAM BINDER written by Vijay Tendulkar would make for an excellent film given our current socio-political situation.

The most hilarious play you have seen
Rangbaaz Productions' BADE MIYAN DEEWANE

A play, which is over-hyped
I personally did not like MAIN HOON YUSUF AUR YEH HAI MERA BHAI. Just my opinion!

An important play (but ignored)
PAREY that is written and directed by Raghav Dutt.

A passage from an important play that you can recite
Lucky's speech from WAITING FOR GODOT

A classical play that you should have read
JULIUS CAESAR by William Shakespeare

A play that changed your perception about the theatre
THE ELEPHANT PROJECT that is directed by Sankar Venkateswaran. The scale, the precision and the imagination that went into making that play just blew my mind.

How do you regard the Mumbai theatre scene?
The lack of performance spaces and finances severely limits the kind of productions that we create. The best Indian theatre is actually being created outside Mumbai.

If you have ever been a part of a theatre production/s, can you recall an event that was insightful, significant or simply humorous?
Nothing specific, but every outstation trip one takes with a production (especially, one involving early flights) ensures that there are moments that are insanely humourous.

Can you think of a foreign production that you found remarkable? Why?
Improv theatre artists perform something called an ''Improvathon''. It's a non-stop 50 hr. show where the actors improvise a show without any sleep for the 50 hr. duration. I have been fortunate to have participated and witnessed these shows and have found them to be my most unique theatre experience so far.

Your favourite director/actor/music or set designer
Gagan Dev Riar. Not because I work with him but because his passion, creativity and understanding of the theatre medium is truly inspiring. Oh...and the plays are awesome too!

A significant Indian production that you may have witnessed
COLOUR BLIND by Manav Kaul was quite an experience.

Life in the theatre without the humble batata-wada or the cutting chai... or can you recall the best gastronomic experience you've had in the precincts of the theatre to date?
The cold coffee at the NCPA is heavenly! I make sure to down at least 3-4 glasses every time I'm there.