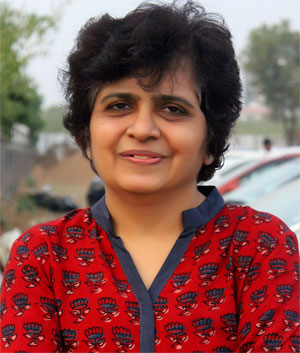 Which is the last play you liked and why?-

SANGEET DEVBHABHLI (Marathi Play), for its story-screenplay-dialogue-acting and music

Your favourite adda to see a play...

Prithvi Theatre

Your favourite playwright...

Prashant Dalvi

Your favourite play-character...

Chanakya

A play you would like to see filmed. Why?

MAREEZ. It can be a great biopic

A novel/short story you would like to see on stage? Why?

Mandodari - a short play written in Gujarati by Varsha Adalja and published as a book can be a brilliant full length play which I would like to watch on stage.

The most hilarious play you have seen...

RANGEELO (Adaption of Marathi play HASVA-FASVI play into Gujarati)

An important play (but ignored):

APURVA AVSAR (A play on the life of Shrimad Rajchandra) by Manoj Shah

A play character you would like to "dialogue" with...

Master Phoolmani

A passage from an important play that you can recite...

I can recite the songs of the play KHELAIYO which was directed by Mahendra Joshi and written by Chandrakant Shah

A classical play that you should have read...

Ibsen's A DOLL'S HOUSE

A play that changed your perception about the theatre...

THE VAGINA MONOLOGUES

How do you regard the Mumbai/Indian theatre scene?

Mumbai should have more auditoriums which are technically better. We have a lot of talent but not many opportunities.

Can you recall an event that was insightful, significant or simply humorous during your theatre journey?

I always wanted my play to be directed by Manoj Shah. One day I met him at a party and casually shared the story of India's first lady doctor Anandibai Joshi. He asked me to write a 10-15 minutes monologue. He liked it so much that he asked me to write a full length play on it. And it became one of the major milestones for me as a playwright. The play was also performed at an international theatre festival.

Your favourite director/actor/music or set designer...

Director- Manoj Shah, Actor- Manoj Joshi and Actress Manasi Prabhakar Joshi

A significant Indian production that you may have witnessed...

MUGHAL-E-AZAM

Life in the theatre without the humble batata-wada or the cutting chai... or can you recall the best gastronomic experience you've had in the precincts of the theatre to date?

Bhaidas batata wada and Nehru Auditorium cold coffee."