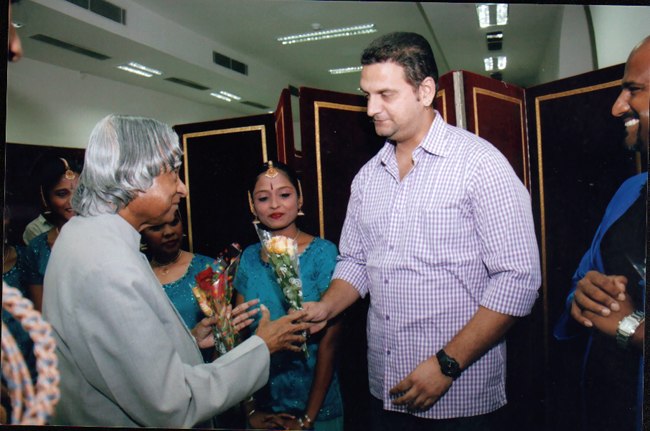 Which is the last good play you saw and why?

Ansh Theatre's RAM. Because it said a lot in a simple manner without being preachy. Fantastic performances by Makrand Deshpande and Nagesh Bhosale.

Your favourite adda to see a play...

Prithvi Theatre.

Your favourite playwright...

Makrand Deshpande / Purva Naresh / Ramu Ramanathan.

Your favourite play-character...

Arun Sarnaik - MAT YAAD DILA

A play you would like to see filmed. Why?

Makrand Deshpande's DREAM MAN. Lots of scope for cinema magic to be created.

A novel/short story you would like to see on stage? Why?

Satyajit Ray's GHOST STORIES. Horror is a genre that has always intrigued me and is difficult to portray on stage. I would love to see some of them played out on stage. One of the best I have watched is TEE by Pritesh Sodha.

The most hilarious play you have seen...

ALL THE BEST - Feroz Khan.

An important play (but ignored):

THE PEASANT OF EL SALVADORE

A play character you would like to "dialogue" with...

Iago - OTHELLO

A passage from an important play that you can recite...

Brutus's Monologue - JULIUS CAESAR

A classical play that you should have read...

There are lots of them. MEGHDOOT maybe.

A play that changed your perception about the theatre....

Actually it was not a play but it was watching Zohra Saigal perform Abhi Toh Main Jawaan Hoon sitting on a chair in the middle of the huge Kamani Auditorium stage.

How do you regard the Indian theatre scene?

It is a very exciting space to be in right now. There is so much happening. People are trying all sorts of new and interesting stuff. Lots of new people and groups coming in. Although a bit more professionalism would be good.

Can you recall an event that was insightful, significant or simply humorous during your theatre journey?

There are too many. I could write a book.

Can you think of a foreign production that you found remarkable? Why?

Complicite's MEASURE For MEASURE. It was done with a modern take and the use of lights, sound and projection was fantastic.

Your favourite director/actor/music or set designer...

Director - Sunil Shanbag / Makrand Deshpande.
Acor - Naseeruddin Shah / Ratna Pathak Shah.
Music - Rekha Bhardwaj.
Set - Teddy Maurya.

A significant Indian production that you may have witnessed...

DEAR LIAR & ZANGOORA THE GYPSY PRINCE.

Life in the theatre without the humble batata-wada or the cutting chai... or can you recall the best gastronomic experience you've had in the precincts of the theatre to date?

Cannot imagine life without the simple cutting chai, batata wada, samosa and poha. Nothing compares to them.

(Deepa Gahlot is a journalist, columnist, author and curator. Some of her writings are on deepagahlot.com)
"