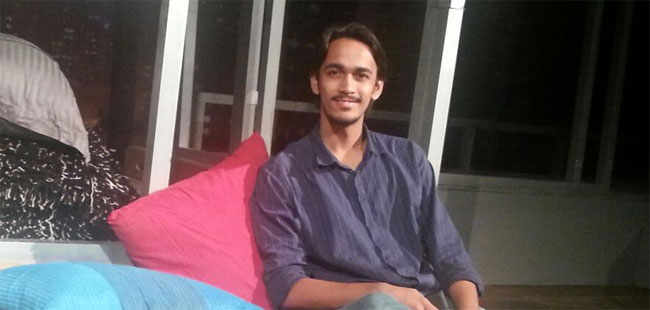 Your favourite adda to see a play...

Prithvi Theatre. I really enjoy watching plays there. The theatre is so intimate that the experience is altogether different.

Your favourite playwright

Has to be Vijay Tendulkar. His writings are just exemplary.

Your favourite play-character

Dadda from the Hindi play LASSANWALA. The character symbolises a religious man being transformed by his experiences in the real world.

A play you would like to see filmed. Why?

I would like to see Marathi play TEE being filmed. It is a horror play with a strong message. It would be a great fit.

A novel/short story you would like to see on stage? Why?

I would love to see Papillon being staged. The dramatization of the incidents and experiences mentioned in the novel would be a real challenge.

The most hilarious play you have seen...

It has to be SAHI RE SAHI. Bharat Jadhav and his comic timing are just unmatched.

A play character you would like to "dialogue" with

I would like to speak with Mahaguru from the Marathi play TAKSHAKYAAG.

A play that changed your perception about the theatre

It's LEZIM KHELNARI PORA, written by Sanjay Krushnaji Patil. The play comprises about 40 poems being enacted by actors in different roles. The play talks about politics, economy, sociology etc. It touched me a lot.

How do you regard the Mumbai/Indian theatre scene?

It's promising..very promising. Apart from the horrific couple of years amidst the pandemic, a lot of the young generation is picking up theatre which is very exciting and promising.

Can you recall an event that was insightful, significant or simply humorous during your theatre journey?

I was being trained under Inayaat Ali Sami (Intelligent Lights Design). We were doing a musical play based on Shakespeare's THE TEMPEST. I was still a newbie in intelligent lights but Inaayat showed complete faith in me and let me run the show. That gave me a big boost and I was confident I could handle Intelligent Lights then onwards.

Your favourite director/actor/music or set designer..

My favourite set and lights designer is Raghav Prakash Mishra. He's a great person and his visuals are just unbelievable.