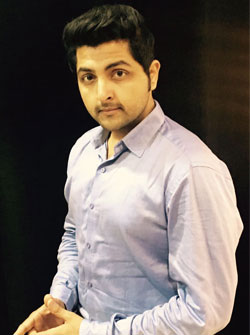 Which is the last best play you saw?

CODE MANTRA.

Your favourite 'adda' to see a play

Bhaidas.

Your favourite play-character

Khelando, played by Mahesh Modi.

A play you would like to see filmed. Why?

My recent play READY STEADY GO...It is a very contemporary story, a very simple play with interesting characters. It depicts a beautiful father-son relationship and it's a story of every household... so people can relate to it very well. The story has potential to reach the hearts of the audience.

The most hilarious play you have seen

LAGE RAHO GUJJU BHAI.

A classical play that you should have read

I guess every play.

A play that changed your perception about the theatre

READY STEADY GO.

If you have ever been a part of a theatre production/s, can you recall an event that was insightful, significant or simply humorous?

Many events but I remember one. I was producing a movie in 2011 called 'Chaar'. I was a lead actor as well. I was new to the industry and almost all the crew members were freshers. I use to handle production and acting at the same time. One day i was about to give a shot and was completely in my character. I took a deep breath and director said " roll camera, clap out, act...." and my mobile phone rang before he could say action. I picked the call because it was my manager's call and he said: "Sir, lunch nathi aavyu ane tiffin walo phon nathi upadto, have shu karu ?" I wondered what I was exactly doing.. That time I was under pressure but now we laugh when I recall the episode.

Your favourite director/actor/music or set designer

No comments. I have to work with everyone.

Life in the theatre without the humble batata-wada or the cutting chai... or can you recall the best gastronomic experience you've had in the precincts of the theatre to date?

I would say that most theatre artists are foodies and cutting chai is a support system. We have our own list of foods according to the auditorium in which we are."