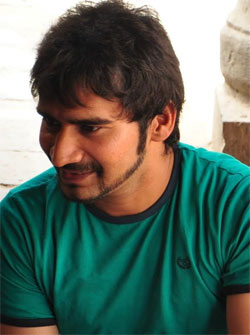 Which is the last best play you saw?

MAA IN TRANSIT by Makarand Deshpande.

Your favourite 'adda' to see a play

Prithvi Theatre, Juhu.

Your favourite playwright

Vijay Tendulkar, Makarand Deshpande, Manav Kaul

Your favourite play-character

Sandip Joshi in JOKE.

A play you would like to see filmed. Why?

EK KANTH VISHPAYI by Dushyant Kumar.

A novel/short story you would like to see on stage? Why?

HUM BIHAR MEIN CHUNAV LAD RAHE HAI written by Harisankar Parsai. It is a political satire and very appropriate for the current political situation in India.

The most hilarious play you have seen

C FOR CLOWNS.

A play, which is over-hyped

None.

An important play (but ignored)

CHUGADHAAM SYMPHONY directed by Chandan Roy Sanyal.

A play character you would like to ''dialogue'' with

Ashwathama of ANDHA YUG.

A passage from an important play that you can recite

There are my passages that I love. However one of the favorite lines is of Kalidas in ASHADH KA EK DIN.

A classical play that you should have read

WAITING FOR GODOT.

A play that changed your perception about the theatre

CHAKRAVYUH by Ratan Thiyyam.

How do you regard the Mumbai theatre scene?

Exciting, competitive, energetic and huge.

Have you read any interesting books/articles concerning the theatre? Why did you find them interesting?

I have read many interesting articles. One of those was of Sanjana Kapoor's where she said that the city needs more Prithvi theatres and that's when things will really change for the better for theatre folk.

Can you think of a foreign production that you found remarkable? Why?

MEASURE FOR MEASURE by Complicite.

Your favourite director/actor/music or set designer

Director: Ratan Thiyyam; actor: Makarand Deshpande; music: Shailendra Barve; set designer: Teddy Maurya.

A significant Indian production that you may have witnessed

COTTON 56, POLYESTER 84 by Sunil Shanbag.