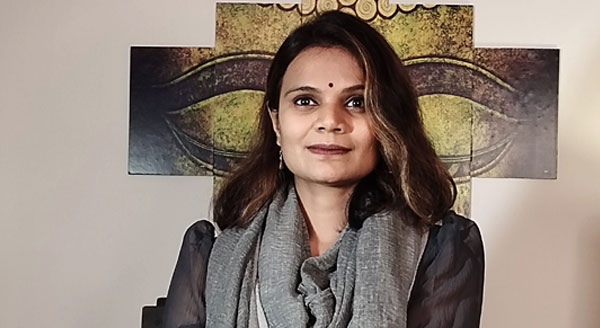 Which is the last play you liked and why?
I have seen EK RUKA HUA FAISLA. It was an amazing presentation and a power-packed performance by each and every Actor.

Your favourite adda to see a play...
Prithvi Theatre and NCPA.

Your favourite playwright...
Girish Karnad , Mohan Rakesh and Nadira Babbar

Your favourite play-character...
Sakubai from The Play SAKUBAI

A play you would like to see filmed. Why?
I would like to see hindi play ASHADH KA EK DIN as a film to see Mallika's love and sacrifice.

A novel/short story you would like to see on stage? Why?
I have read Mannu Bhandari short stories which I like to see on staged, the stories are simple but the characterization of the characters is complex.

The most hilarious play you have seen...
One play that is coming to my mind right now is CHARANDAS MLA by Satinath Bhaduri, Directed by Barun Sinha in Hindi

A play, which is over-hyped...
Balle Balle

An important play (but ignored):
I don't know much about it.

A play character you would like to "dialogue" with...
I like dialogue of Mallika from ASHADH KA EK DIN

A passage from an important play that you can recite...
E Ladaki by Krishna Sobti

A classical play that you should have read...
Bisarjan by Rabindranath Tagore

A play that changed your perception about the theatre...
After watching "SAKUBAI" I was obsessed with performing solo.

How do you regard the Mumbai/Indian theatre scene?
Mumbai is a place that nurtures all kinds of plays be it experimental, musical or many more...

Have you read any interesting books/articles concerning the theatre? Why did you find them interesting?
I read Sangam Pandey book NATAK KE BHITAR. This book is a direct assessment of the theater seen in Delhi and different places of the country in the last two decades, so that even a completely blank reader will probably be able to imagine the contemporary theater of the country. An effort has been made to include maximum diversity of the country and the color art of the world.

Can you recall an event that was insightful, significant or simply humorous during your theatre journey?
Theatre is a place that completely change me a different person.

Can you think of a foreign production that you found remarkable? Why?
I saw a musical performance at Window of the World in Shenzhen, China. The way the lights, costumes, music and performances were used. It was mesmerizing me. I would love to be a part of such a project.

Your favourite director/actor/music or set designer...
I have always loved working with Barun Sinha. I always played different characters with him in different projects. He is an amazing director, actor and teacher.

A significant Indian production that you may have witnessed...
TAMAS by Bhisham Sahni

Life in the theatre without the humble batata-wada or the cutting chai... or can you recall the best gastronomic experience you've had in the precincts of the theatre to date?
Without TEA, I don't get energy to start Rehearsals.