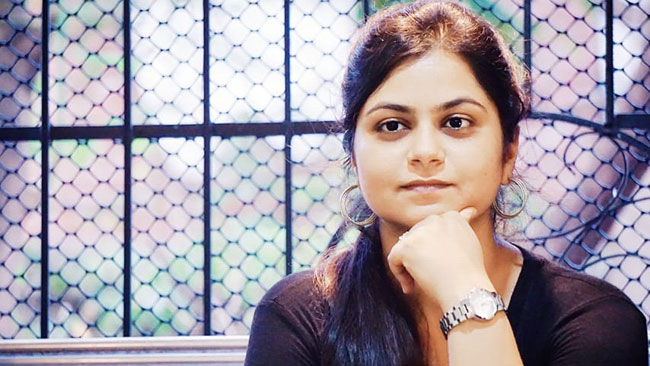 Which is the last best play you saw?
A Marathi play titled TI, which was performed at the National School of Drama (NSD) during the Theatre Olympics this year. It has had a long lasting impact on me. Besides entertaining me with a horror story, the play also experimented on various levels like being a '' play within a play '', one actor playing eight different roles, characters entering, exiting and appearing from unexpected places. All these factors not only made it more interesting but also taught me a lot about stagecraft and the art of performance. The actor playing eight different roles, slipped into each character with such ease, that the audience was left spell bound.

Your favourite adda to see a play
Prithvi theatre is a beautiful place to watch quality productions and to intimately experience the magic of theatre. But I would also like to mention the Yashwantrao Chavan Centre at Sachivalya as an adda to watch plays. Every year intercollege theatre competitions are held in this particular theatre and I love to watch different one- act plays performed by college students. It's a breath of fresh air.

Your favourite playwright
It's extremely difficult to name one, as I am deeply influenced by P.L Deshpande's pure humour, Munshi Premchand's mesmerising Hindi, Shakespeare's emotional rollercoasters and Samuel Beckett's interpretative presentations. But to name just one, it would be Vijay Tendulkar. His dramas have a harsh take on reality, humanity, hypocrisy, social issues, and women's status in our society, and there is so much more that moves you from within.

Your favourite play-character
Laura Wingfield from THE GLASS MENAGERIE, written by Tennessee Williams. Alone, isolated and limping, Laura engages herself in an imaginary world of glass animals. Laura's character is relatable to every girl and yet she is so different. It is always challenging to play a person who is less expressive. Besides her, Draupadi from The Mahabharata is a character that is a dream role for every theatre actress.

A play you would like to see filmed. Why?
WADA CHIREBANDI - a Marathi classic by Mahesh Elkunchwar. It depicts a very realistic story of a family. I feel that if filmed, it may take us closer to the lives of the entire family. Also the ambience inside the old house, the little unsaid expressions - everything will come to life if this play gets filmed.

A novel/short story you would like to see on stage? Why?
I recently read Daphne du Maurier's novel 'Rebecca' and even saw Alfred Hitchcock's movie on the same. But I wonder what a challenge it will be to establish The Manderley mansion on stage .The story is a blend of murder mystery, suspense, drama, horror, love story, human emotions, courtroom drama, and even comedy. So many elements can contribute to this play that delivers so much to its audience and can also fill them with nostalgia, as they would recall the book and Hitchcock's Black and White film.

The most hilarious play you have seen
When it comes to comedy, I enjoy much more when I am watching plays in my mother tongue Marathi. HASVA PHASVI is one of those classic Marathi plays that will make you smile with admiration for the witty humor as well as make you laugh out loud with its relatable characters.

A play, which is over-hyped
I sincerely don't think any play currently is over-hyped, as each play is a team effort and a result of hard work, which deserves all the hype and publicity that comes its way.

An important play (but ignored)
I had been a part of a play titled TIRATH ME SAB PAANI HAI. The play had a brilliant say against superstitions, religious blindness, and exploitation of women by self declared god men. The specialty of the play lay in its ability to present these issues wrapped up in a comedy. Unfortunately the play had limited shows. It could have been staged at a few important theatres where it could have reached a mature audience and the message it contained could have been delivered on a larger scale. We still hope to stage this play this year and give justice to its content.

A play character you would like to ''dialogue'' with
I would like to talk with Vladimir and Estragon or at least with one of them from WAITING FOR GODOT. Samuel Beckett's plays never reveal everything to the audience and leave some things to be interpreted by them. In WAITING FOR GODOT, we never really understand who are these two people, where they come from, where are they going, what is the exact meaning of the things they say to each other? Sometimes these questions really make me restless. I would like to ask these questions to one of them and get all my answers!

A passage from an important play that you can recite
Not just me, but majority of the female theatre aspirants will be able to recite the famous monologue '' tula shikvin changlach dhada '' from the Marathi play TI PHULRANI, which is a Marathi adaptation of George Bernard Shaws's PYGMALION. The passage is an epitome of phonetic beauty and poetic expression. It is dramatic, it is fun, it is raw, it is innocent and above all, it comes straight from the heart of Manjula – an uneducated girl who sells flowers on the street.

A classical play that you should have read
I have read famous tragedies by William Shakespeare like OTHELLO, HAMLET, MACBETH, ROMEO AND JULIET, but I have missed reading the two comedy plays A MIDSUMMER NIGHT'S DREAM and COMEDY OF ERRORS. I feel it is equally important to study comedies as they rightly say, ''comedy is a very serious business.''

A play that changed your perception about the theatre
A play is all about showcasing the actor. An actor should be visible to the audience for a play to function properly - this was my misconception till I saw and read Samuel Beckett's short play NOT I. The entire play takes place on a pitch-black stage having just one spot light that focuses on a mouth - a talking mouth! That's all we see for the entire duration! And the play still holds your attention. That was when I realised, theatre is not ''showcasing '' but ''expressing''.

How do you regard the Mumbai theatre scene?
It is becoming global day by day. We see regional translations, adaptations of foreign plays as well as modern interpretations of classic old plays. We even have different types of spaces that can give you different play-watching experiences. There are huge traditional auditoriums, intimate experimental theatres, plays that are even performed at one's home! Earlier, audiences went to the theatre. Now, the theatre is approaching the audience!

Have you read any interesting books/articles concerning the theatre? Why did you find them interesting?
1. English translation of Vijay Tendulkar's Marathi plays. In this collection, the preface written by Vijay Tendulkar is extremely precious for any aspiring writer.

2. An Actor Prepares .

3. ''Abhinayache Prathmik 6 Paath.'' All six lessons mentioned in this book can only be learnt by their application.

4. ''Natyashashtra'' by Bharat Muni. I tried comprehending the vast ocean of knowledge that this book was.

If you have ever been a part of a theatre production/s, can you recall an event that was insightful, significant or simply humorous?
I was acting in a play that depicted the life and the work of Samrat Ashoka. The play ended with a long monologue by me as I finally find the Ashok Chakra buried inside the Earth. Whenever I performed it, my director would disappointedly tell me '' you are simply saying it … don't say …talk with them (the audience).'' I tried hard to deliver my best but would never be able to satisfy him. Few weeks later we had a show in a remote village of Vidharbha. The play was going to be performed on a big open ground in front of 2000 villagers, and during the first half, the mikes stopped working! It was a shock for all the actors as it was going to be impossible to reach such a vast audience. Also the villagers were unable to connect with the historical language of the play. As the clock struck 10.30 pm, many of them started leaving as I was about to enter the stage carrying the Ashok Chakra. My heart pounded as I felt embarrassment and nervousness. I feared that the people won't listen attentively to the monologue and it will turn out to be a failure. Suddenly, a moment before I stepped on stage, a thought appeared in my mind, as I stared at the round piece of thermocol we had painted to represent the Ashok Chakra. Though fake, this Ashok Chakra was real for my audience, and I was acting for the audience. I must play my part with complete honesty till the last moment even if the audience is disinterested, I resolved. With a gust of enthusiasm I stepped on the stage and for the first time, I didn't say the words. I spoke to the people. I repeated again and again till they fell silent and began to hear me. For the very first time I reached out to them. I had broken that imaginary fourth wall every thespian is supposed to maintain. When the play ended with a loud applause from the audience, I realised what my director meant when he said '' don't say, talk! ''

Can you think of a foreign production that you found remarkable? Why?
I have always been a Harry Potter fan and watching the same magic on stage can be a wonderful experience. I find Harry Potter And The Cursed Child extremely remarkable for this very reason and I dream of being able to watch it someday!

Your favourite director/actor/music or set designer
There are so many. It's just difficult to name any one or even a few. I admire all of them.

A significant Indian production that you may have witnessed
I saw KHARIYA KA GHERA, a Hindi adaptation of THE CAUCASIAN CHALK CIRCLE. The play was staged at Prithvi theatre and it was a performance by students of theatre arts and was directed by Nadira Babbar. It was a delight to see such a colorful play with so many minute details, so many characters and such an emotional depth! The character ''Azdak'' specially moved me, and the actor playing the role did a great job.

Life in the theatre without the humble batata-wada or the cutting chai… or can you recall the best gastronomic experience you've had in the precincts of the theatre to date?
We had to perform Mahabharata in Sanskrit at Bharat Natya Mandir, Pune, and we all were nervous and ate almost nothing before the performance. The play went extremely well and Sanskrit brought its own magic on stage. After the performance, our stomachs were about to burst with the basundis and puranpolis we had in a well-known restaurant in Pune!