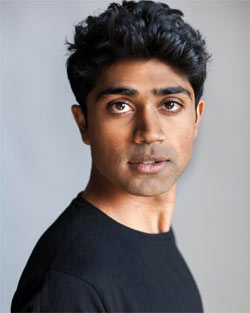 Which is the last best play you saw?

PEOPLE, PLACES AND THINGS, by Duncan Macmillan (in London), and more recently, MAIN HOON YUSUF AUR YEH HAI MERA BHAI, by Mohit Takalkar (at the Ranga Shankara Theatre festival.)

Your favourite 'adda' to see a play

Ranga Shankara in Bangalore and Prithvi in Mumbai.

Your favourite playwright

William Shakespeare, Harold Pinter

Your favourite play-character

Iago (OTHELLO) and Tom (THE GLASS MENAGERIE)

A play you would like to see filmed. Why?

I saw a fantastic production of THE WINTER'S TALE, directed by Anirudh Nair and Neel Chaudhari in Delhi in 2013. I wish they had filmed the production because more people needed to see it. The movement of the audience (promenade style) between Court and Country and the adaptation using aspects of physical theatre, along with the switch to Hindustani, when the scenes shifted to the country, were brilliantly conceptualised and well executed. It was a good example of Shakespeare done well.

A novel/short story you would like to see on stage? Why?

'Em and the Big Hoom' by Jerry Pinto. It's an extremely moving story with lovely touches of humour and pathos. Set in a functional/ dysfunctional family who live in Mahim, the narrative would lend itself beautifully to the stage.

The most hilarious play you have seen

AVENUE Q on Broadway! I've never laughed more in my life.

A play, which is over-hyped

BATTLEFIELD, directed by Peter Brook

An important play (but ignored)

CHILDREN OF A LESSER GOD, by Mark Medoff.

A play character you would like to ''dialogue'' with

Lady Macbeth

A passage from an important play that you can recite

The 'Tomorrow and tomorrow and tomorrow' speech from MACBETH.

A classical play that you should have read

SHAKUNTALA, by Kalidasa.

A play that changed your perception about the theatre

There have been a few. Most recently, a production which I was fortunate enough to be a part of, called THE STRANGER, directed by Daniele Bartolini, worked with an audience - specific approach. It involved one audience member per show who was immersed in the city of Mumbai. It blurred the lines between reality and illusion (what was real and what was the play). It was almost like a real life video game for the audience member. Every show was challenging and exciting. And no show was ever the same. I absolutely loved it because I got to connect more deeply with the audience.

How do you regard the Mumbai theatre scene?

Mumbai has always been an exciting melting pot for theatre. I haven't been in Mumbai for very long, but the increase in alternative performance spaces is very encouraging. However, I think the challenges that persist are funding, sustainability (especially for experimental work) and bringing audiences back to the theatre.

Have you read any interesting books/articles concerning the theatre? Why did you find them interesting

Peter Brook's, 'The Empty Space' changed my perspective on theatre. Another book that influenced me was Jerzy Grotowski's, 'Towards a Poor Theatre.' Both books reinforced my belief in pushing boundaries.

If you have ever been a part of a theatre production/s, can you recall an event that was insightful, significant or simply humorous?

I was directing our college annual production - MACBETH. Despite all the misgivings and superstitions that surround the title we decided to call the play MACBETH and NOT the Scottish play. We were warned that theatres have burned down and actors have died...

During the dress rehearsal we heard a loud scream which was not a part of the production. It was the scene when 'Birnam Wood comes to Dunsinane.' We then saw one of the stage hands dangling from the fly- bar. In her efforts to throw leaves from overhead she had unfortunately touched a live wire...Fortunately the event was not fatal. I will never forget that day. Sometimes, I still wonder about ritual, superstition and life in the theatre... But we didn't change the name.

Can you think of a foreign production that you found remarkable? Why?

Recently I stayed up till 4am to watch the live stream of Complicite's latest production, THE ENCOUNTER, which I found absolutely ingenious.
I've always believed that theatre is best when seen live. However, what Simon McBurney's production accomplished in terms of sound design, left me speechless.

Your favourite director/actor/music or set designer

Director - Simon McBurney and Abhishek Majumdar
Actor- Mark Rylance

A significant Indian production that you may have witnessed

PIYA BEHUPIYA, directed by Atul Kumar.

Life in the theatre without the humble batata-wada or the cutting chai... or can you recall the best gastronomic experience you've had in the precincts of the theatre to date?

Nothing like a good cup of South Indian coffee and Sabudana Wada at Anju's cafe at Ranga Shankara in Bangalore.