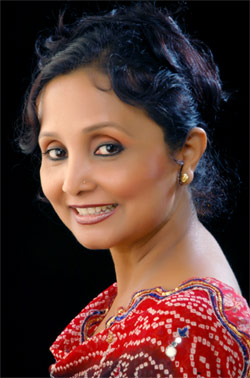 Which is the last good play you saw and why?

I remember watching Hindi play ISHAARON ISHAARON MEIN. It is a unique story of a musician and a deaf and mute girl. A beautiful play about their journey.

Your favourite adda to see a play...

Prithvi Theatre. Love the atmosphere and it is special to me because this is the first place in Mumbai where i performed. I have been performing here since 1991. Prithvi is like home to me.

Your favourite playwright...

Mohan Rakesh

Your favourite play-character...

Dronacharya from EK AUR DRONACHARYA written by Shankar Shesh

A play you would like to see filmed. Why?

P L Deshpande's SHATRANJ KE MOHRE. I find it quite relevant with social issues depicted in a humorous way. It appeals to everyone.

A novel/short story you would like to see on stage? Why?

A novel Chaudah Phere by Shivani. It is a very famous novel . It is a story of a girl Ahalya and has many twists and turns. It could be a very interesting social play which takes us to the times when it was written (1972) and which is relevant in the present time.

The most hilarious play you have seen...

TAJMAHAL KA TENDER written by Ajay Shukla , Directed by Salim Arif and performed by IPTA artistes. Each character is so interesting. The satirical punches written by the writer and improvised by the director and the actors especially Rakesh Bedi makes the play so relevant...satirical...humorous and hilarious.

An important play (but ignored)...

GANDHI THE MUSICAL. So much of hard work put in by everybody but didn't have many shows of such a big production)

A play character you would like to "dialogue" with...

Kalidasa from the play AASHADH KA EK DIN by Mohan Rakesh

A passage from an important play that you can recite

A passage from the play AASHADH KA EK DIN by the main character Mallika. I had acted in this play as Mallika in the production by ONGC Theatre Group in Dehradun. It is a long two-page passage depicting the agony of Mallika the beloved of Kalidasa.

A classical play that you should have read...

PRIYADARSIKA by Harshvardhana

A play that changed your perception about the theatre....

While studying World Theatre in my M.Phil programme I was much more fascinated by techniques of Grotowski and Richard Schechner. The latter's use of environmental theatre appealed to me -- that aimed to heighten audience awareness of theatre by eliminating the distinction between the audience's and the actors' space, and the example that we saw was Schechner's use of environmental theatre in India in the NSD Reportory production of THE CHERRY ORCHARD (Cherry ka Bageecha). This technique opened up for me a new way or new perception about theatre.

How do you regard the Mumbai theatre scene?

Many groups have come up in recent years and have done many plays. Plays are being adapted from foreign languages but I feel that we have lot of content in Hindi literature which has to be explored by all of us. We need to bring it out and present it for the audience. The same goes for English plays too. More of Indian themes and literature should be explored for English plays too.

Have you read any interesting books/articles concerning the theatre? Why did you find them interesting?

I have read articles on theatre in Ranga Prasanga (From NSD) and in recent years read articles from The Indian Theatre Journal on various topics in theatre and also a magazine called IPTA Vaarta which has updates and articles on various aspects of theatre. I find all these articles interesting because they cover all aspects of theatre== analysing plays, acting, music, theme, characterization, stage craft etc.

If you have ever been a part of a theatre production/s, can you recall an event that was insightful, significant or simply humorous?

Once e were doing a play in IPTA Mumbai called MUKHYAMANTRI written by VV Shirwadkar and directed by Amrit Pal. The sets were designed by M S Sathyu. Just before the show we realised that the furniture brought by the production guy was too heavy to shift and change during the show. It could be only shifted once and could not be brought back on stage for the other scene of chief minister's office. Sathyu Saheb was very upset and he told us that now we will have to do the chief minister's second office scene at his home only. I was very confused and nervous. All the moves had been set according to the office set. Just as the second scene was about to start, I nervously went to Sathyu Saheb who was back stage and asked him, "But Sathyu Saheb how can I go to chief minister's house when i am supposed to be doing this scene at his office? "Sathyu Saheb was as it is very tense and upset...he looked at me and pushed me towards the stage saying,."Nivedita there is no time for logic...you enter. "I was literally thrown in, I was so nervous and the other actor, Ramesh Rajhans who was playing Mukhyamantri was equally nervous. So he looked at me and said, "Arre tum yahan kya kar rahi ho? I nervously said, "Sir ek zaroori kaam aa gaya tha to mujhe yahan aana pada."We were all making up these lines on the spot to save the situation....somehow we managed to pull off the scene....but later we laughed and laughed thinking about the chaos and all that happened with us.

Your favourite director/actor/music or set designer...

Favourite Director- M S Sathyu

Favourite Actor- Sudhir Pande

Favourite music director- Kuldip Singh

Favourite set Designer- M S Sathyu

A significant Indian production that you may have witnessed....

GANDHI THE MUSICAL and BALLE BALLE THE MUSICAL. I have acted in both these spectacular productions.

Life in the theatre without the humble batata-wada or the cutting chai... or can you recall the best gastronomic experience you've had in the precincts of the theatre to date?

Well, life in theatre would be tasteless without the cutting chai and humble batata wada because these are the two affordable things we look forward to during rehearsals and these two things give us that energy to sustain and survive for months. Can't do without them. However, when i was rehearsing for Wizcraft's musical BALLE BALLE, we had a ball. From samosas to pastas and from burgers to biryani...we were served a lavish breakfast, lunch, evening snack and dinner. We were pampered and treated royally. Enjoyed every bit of it. Thanks to Wizcraft for such a grand treatment.