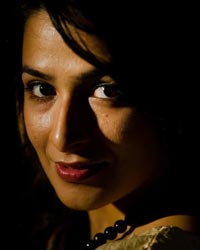 Which is the last best play you saw and why?

EK SHAAM ISMAT AAPA KE NAAM. Three stories brought three characters to life. So much so, that I didn't want it to stop. I remember being awed by the way the stories bore form in front of my eyes. It was a beautiful theatrical moment for me. Unforgettable.

Your favourite adda to see a play

I say, "what's in an adda?" Anytime! Anywhere!

Your favourite play-character

Rita (from EDUCATING RITA by Willy Russell)

A novel/short story you would like to see on stage? Why?

'Savitri' by Purushottam S. Rege. Savitri, for me, symbolises the true strength of a woman. Mr Rege has created a character so strong and so resilient that it is in her quiet and elegant demeanour that her power lies. I would love to see this character come alive on stage.

The most hilarious play you have seen

ZOPI GELELA JAGA JHALA - a Marathi play in 2012.

A play, which is over-hyped

NAVA GADI NAVA RAJYA

A passage from an important play that you can recite

From EDUCATING RITA:

Rita: You think I can don't ya? Just 'cos you pass a pub doorway and hear us singing, you think we are all ok, that we are all surviving with our spirit intact? Well, I did join in with the singing, I didn't ask any questions, I just went along with it. But when I looked around, I saw my mother and she was crying. Everyone said she's pissed and that we should get her home and so we did... and on the way back I asked her, I said, " Mother, why are you crying?". She said, " Because we could sing better songs than those." Ten minutes later Denny had her laughin' and singin' again pretending she hadn't said it... but she had. And that's why I came back. And that's why I am staying.

A play that changed your perception about the theatre

SINGING IN THE RAIN. I saw it at the Palace theatre, London and I have never been able to forget the experience of it all. Seeing that play has been a moment of realisation for me. A realisation of the power of theatre to make an impact unfathomable and long lasting. The production was grandiose yet elegant... and the cast was unsurpassable in their passionate effort to make the show a success. It opened for me a magical world.

How do you regard the Mumbai theatre scene?

A whole load of new plays are playing and a lot many new playwrights are making their debut. In all, a pretty promising scene.

Have you read any interesting books/articles concerning the theatre? Why did you find them interesting?

'True and False: Heresy and Common sense for the actor' by David Mamet. Well, it is an instructional book for acting, but not just like any other 'book' that you get on 'acting'. It gives the aspiring actor a completely different perspective from the age old practised form of method acting. I thought of it as a great addition to my actor's library. A must read I must say.

If you have ever been a part of a theatre production/s, can you recall an event that was insightful, significant or simply humorous?

I remember I was performing in the play BAYA DAAR UGHAD at the Sathaye College auditorium. We were in the middle of a particularly intense scene. It was so that one could have heard a needle drop. Suddenly, we hear this huge snore resonating from the front row! This man seemed to have dozed off and pretty much to the annoyance of everyone on stage and in the audience he gloriously carried on to snore for 15 seconds. This was a significantly insightful moment for me, for I learnt how to control my temper and laughter on stage at the same time!

Your favourite director/actor/music or set designer

Actor: Naseeruddin Shah/ Sumeet Raghavan/ Ratna Pathak/ Kumud Mishra

Set Designer: Pradeep Mulye
Music Director: Devdutt Sable
Director: Vijay Kenkre

Life in the theatre without the humble batata-wada or the cutting chai... or can you recall the best
gastronomic experience you've had in the precincts of the theatre to date?

All I'll say is," Me, My Chai biscuit and I." Nothing more and nothing less!