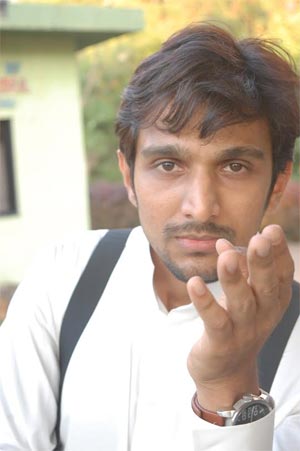 Which is the last best play you saw?
Frankly I hardly get to see a play, but the last one I saw was a Gujarati play called THE WAITING ROOMS, directed by Dhiraj Palshetkar.

Your favourite 'adda' to see a play
Prithvi Theatre

Your favourite playwright
There are many but just to name a few - Rabindranath Tagore, Vijay Tendulkar, Saumya Joshi, Mihir Bhuta and Uttam Gada.

Your favourite play-character
From what I have performed in last 10 years, it would be playing the character of Mohandas Gandhi from the play MOHAN NO MASALO.

A novel/short story you would like to see on stage? Why?
I would love to perform or see the book Conversations With God by Neale Donald Walsch being adapted to the stage. This book describes the concept of God and human in a simple yet enlightening way. It can also be challenging. I see the book being performed as a monologue.

The most hilarious play you have seenSo far from what I have seen, BAPU TAME KAMAL KARI was the most hilarious play, where Dilip Joshi, Amit Mistry and Sumeet Raghvan performed brilliantly.

A play character you would like to ''dialogue'' with
Mohandas Gandhi from MOHAN NO MASALO

A passage from an important play that you can recite
A passage from the play MOHAN NO MASALO:

''I guess you might have read ''My experiments with truth'', and for those who haven't, read it. You get it for 60 rupees printed by Navjivan Prakashan. In that book Mahatma has talked about everything excluding this Mohaniya. What do you think? Would he have forgotten me?... No! Mahatma was a precise man, very calculative indeed. Let me explain it to you. When you buy an edible product, the package will tell you the ingredients on it but it won't tell you the process. If it did wont you make that product yourself! So today it's been almost 80 years since the Mahatma passed away. Tell me how many Mahatmas came up after him? None! You know why... because the Mahatma hasn't told the Mahatma making masala to anyone, which originated out of this Mohan. So today I have come to give my masala to you. This is Mohan's Masala. Test it, smell it and spread it....

A play that changed your perception about the theatre
I was quite fascinated and astonished by the monologues that I had seen by Naseeruddin Shah in ISMAT AAPA KE NAAM and Aupam Khair in KUCHH BHI HO SAKTA HAI. And after years after, now I have got the opportunity to perform monologues. The experience of performing alone on stage for more than 90 minutes has changed my perception about the theatre.

How do you regard the Mumbai theatre scene?
I feel the theatre scene in Mumbai has created some of the best theatre productions in the country in terms of content, performances, production values, commercial viability, etc. The best part of theatre in the city is that it has created its position as an industry where an actor or director can survive on it, especially in Gujarati theatre.

Can you think of a foreign production that you found remarkable? Why?
I liked the format and style of the play called 39 STEPS where some 5 actors are playing around 120 characters. Though I haven't seen it live, I have read it and seen some videos of this play. I find it quite exciting and remarkable.

Your favourite director/actor/music or set designer
Director: Manoj Shah. The reason being that we have done a lot of work together in the last 10 years. I also loved working with Sunil Shanbag in MERE PIYA GAYE RANGOON. I loved his detailing and grip on the craft. And yes Saumya Joshi from Ahemdabad is one of the most intelligent and creative directors that I admire.

For actors, the list can be really long, but to name a few: Paresh Rawal, Naseeruddin Shah, Makarand Deshpande and Rajit Kapoor, are some actors that I really look up to.

A significant Indian production that you may have witnessed
THE BEAUTY AND THE BEAST, directed by Vikranth Pawar.

Life in the theatre without the humble batata-wada or the cutting chai... or can you recall the best gastronomic experience you've had in the precincts of the theatre to date?
Can't imagine a life in theatre without wada-pav and cutting chai. This deep-fried, delicious , cost effective and tummy filling dish is our life line right from the reading sessions and rehearsals to the shows in Mumbai. But when we travel to other parts of the country or abroad for the performances, we make it a point to have the best gastronomic experience by enjoying the local delicacies.