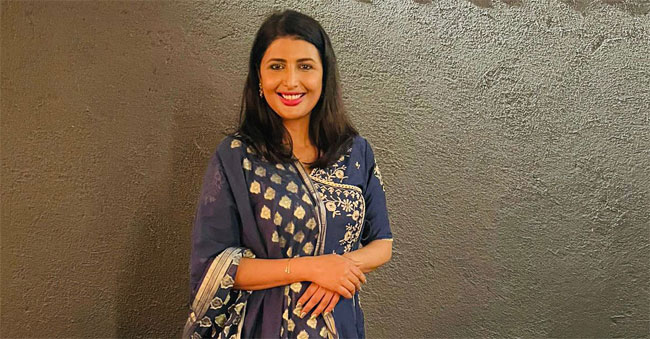 Which is the last play you liked and why?
ISMAT AAPA KE NAAM by Motley. A script so relevant even today, and add to that the masterful performance by Ratna Pathak Shah. I was holding on to every word spoken in that play.

Your favourite adda to see a play...
I have two. Prithvi Of course..and also the wonderful Rangashankara in my hometown Bengaluru.
Your favourite playwright...
Adhir Bhat

Your favourite play-character...
Hamlet.

A play you would like to see filmed. Why?
DHUMRAPAAN. Because its contemporary, funny and extremely relatable.

A novel/short story you would like to see on stage? Why?
Pet Cemetery or Carrie by Stephen King. I think the drama and horror of those stories will make for a haunting and lovely play.

The most hilarious play you have seen...
DHUMRAPAAN

A play, which is over-hyped...

None. Theatre needs all the "hyping" it can get!!! So I say - over hype the hell out of plays guys!! I'm all for it!

An important play (but ignored)...

BAGHDAD WEDDING by Akvarious

A play character you would like to "dialogue" with...
Sakharam from SAKHARAM BINDER. I really want to ask him what made him do the things he did.

A passage from an important play that you can recite...
"Abhiyukt Miss Leela Benare ke oopar paaye gaye abhiyog ka swaroop maha bhayankar hai"... Love this passage from
KHAMOSH ADALAT JAARI HAI by Vijay Tendulkar.

A classical play that you should have read...

MEDEA by Euripedes

A play that changed your perception about the theatre....
YEH RAASTE HAIN PYAAR KE by Ila arun

How do you regard the Mumbai theatre scene?

The theatre scene in Mumbai is dynamic, bold and experimental while being nurturing and encouraging at the same time. The Mumbai theatre community is a close knit group of individuals and theatre companies that are always there for each other.

Have you read any interesting books/articles concerning the theatre? Why did you find them interesting?
I love reading anything by David Mamet. I feel every actor should read his book True and False. His books are interesting because they talk about the mechanics of theater and acting while being accessible.

On your theatre journey, can you recall an event that was insightful, significant or simply humorous?

By the grace of God, I've spent a lot of time with Ila Arun ji and KK Raina sir, both stalwarts in their own right. Just listening to them backstage, and during rehearsals is not just helpful during plays but in life. Their wisdom and empathy goes beyond the stage and that is what I try to inculcate as well.

Can you think of a foreign production that you found remarkable? Why?
I happened to see Pinter's NO MAN'S LAND starring Ian Mckellen and Patrick Stewart in London and it was one of the best plays I have ever seen. The sets were minimal, and all the heavy lifting was done by the cast - simply magnificent. The play was a testament to the fact that theatre is indeed an actor's medium.

Your favourite director/actor/music or set designer...
Apart from Ila Arun and KK Raina, I love the work of Akarsh Khurana, Sunil Shanbag and Naseeruddin Shah.

A significant Indian production that you may have witnessed.....
GASHA was one of the most profound theatre productions to come out of India. The concept, the subject and the two actors made it one of the most unique pieces of contemporary theatre to come out of our country.

Life in the theatre without the humble batata-wada or the cutting chai... or can you recall the best gastronomic experience you've had in the precincts of the theatre to date?
Theatrewallahs love food. No rehearsal can start without the question "break mein khaane ko kya hai". So any opportunity to travel gives us a reason to explore the culinary traditions of our host cities. I remember once we were performing in Hyderabad and the cast was so excited about the food (and ate so much) there that almost everyone had a bad stomach while performing.