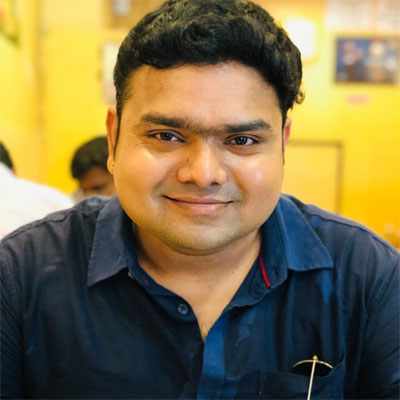 By Vipul Mahagaonkar

Which is the last play you liked and why?

FATHER with Naseeruddin Shah-- well crafted and performed. I was speechless. So real, pure. I felt like I was not sitting in a theatre and watching it, but I was with those characters in their house. Seen it twice. Second time also I experienced the same thing. Generally, at the end of the play, the audience rushes to meet the actors and take photos. It didn't happen with FATHER, both the times I felt that the entire theatre was empty after the play ended. Actors had taken exit to the backstage and for about five minutes the audience was sitting restlessly in their chairs. I was witnessing the meaning of the word "Smashanshantata" (sound of silence in the cemetary).

Your favourite adda to see a play...

Shivaji Mandir, Prithvi, Gadkari... In fact, wherever there is a theatre, it becomes my adda. So, be it a grand theatre or a small space or a place like Kitab Khana where small experimental plays take place.

Your favourite playwright...

Vijay Tendulkar

Your favourite play-character...

Batu Mama from NAKALAT SAARE GHADLE, Naseeruddin Shah in FATHER.

A play you would like to see filmed. Why?

A few years back, Maharshi Dayanand College of Parel had done a one-act play called GIRGAON VIA DADAR with about 100 artistes, different locations, montages. The theme was Sanyukt Maharashtra Chalwal (United Maharashtra Movement). When I saw it on stage, I thought it was so magnificent. Ohh...this one-act play is a movie category, some more one-act plays in this category are HOUSEFULL (Writer / Director the same pair of GIRGAON VIA DADAR -- Hrishikesh Koli and Amol Bhor) and SHATRUGHAN SINHA (J.J. School of Arts)

A novel/short story you would like to see on stage? Why?

Poems in Kusumagraj's Pravasi Pakshi, or some poems of poets which have essence of drama in them could be selected for dramatic presentation.

The most hilarious play you have seen...

YADAA KADACHIT by Santosh Pawar, SAHI RE SAHI by Kedar Shinde, Pyar Kiya Toh Darna Kya by Priyadarshan Jadhav. Akbar's ironic character played by Kishore Chawgule was breath taking and wonderful in the parody of MUGHAL-E-AZAM

A play, which is over-hyped...

BATTLEFIELD by Peter Brook. I was about to spend Rs. 5000/-. Fortunately, bought a last row ticket for Rs. 700/-. My loss was minimum.

An important play (but ignored)...

SHIVAJI UNDERGROUND IN BHIMNAGAR MUHALLA.

A play character you would like to "dialogue" with...

One by one I would want to chat with all the female characters from Tendulkar's play. I want to ask what happens or happened before and after to them when the play gets over. And I want to meet all those fictional characters written by P.L. Deshpande.

A passage from an important play that you can recite...

NATASAMRAT. I would anytime like to recite the soliloquies from the plays of Kanitkar's era.

A classical play that you should have read...

All the plays of Shakespeare.

A play that changed your perception about the theatre...

WICKED (saw it in London).

How do you regard the Mumbai/Indian theatre scene?

In Mumbai, theatre is suffocating. There were such rightful places to experiment... Chhabildas... our own Awishkar. Now, all this has gradually become a fairy tale. Amateur theatre practitioners do not have theatres. The rent of the theatres is unaffordable. The same goes for commercial plays. Nowadays, shows happen only on weekends. The audience doesn't even come to see them. There are no new experiments happening in the commercial theatre circuit. In short, theatre is neither a priority for the audience nor for the actors. Because, all the parents want to make their child shine on TV.

Have you read any interesting books/articles concerning the theatre? Why did you find them interesting?

Lamaan, an autobiography of Dr. Shriram Lagoo. He mentions his thoughts on the kind of discipline an actor needs. The title Lamaan says it all; it means a person who carries water. An actor is like a lamaan according to Dr. Lagoo.

Can you recall an event that was insightful, significant or simply humorous during your theatre journey?

Once we had to do a comedy anchor links for a show. Entire night we rehearsed very hard. Script was memorised. Everyone was prepared. The next day just before the third bell was about to go, we came to know that we have to perform the show not in Marathi but in Hindi. That audience didn't understand Marathi. Curtain was drawn and we were translating our dialogues onstage in Hindi and on top it we were performing. The comedy punches that were originally in Marathi sounded very serious when performed in Hindi.

Can you think of a foreign production that you found remarkable? Why?

I have never seen LION KING, but yes, I have seen some footage of it on YouTube. It was splendid, all Broadway productions are specifically MAMA MIA.

Your favourite director/actor/music or set designer...

Director: Chandrakant Kulkarni
Actor: Naseeruddin Shah, Vikram Gokhale, Dr. Shriram Lagu.
Set Designer: Pradeep Mulye

A significant Indian production that you may have witnessed...

TO ME NAVHECH, NAKALAT SAARE GHADLE, MITRA, FATHER, ISMAT AAPA KE NAAM.

Life in the theatre without the humble batata-wada or the cutting chai... or can you recall the best gastronomic experience you've had in the precincts of the theatre to date?

I cannot afford to miss on Balu Mama's wada and tea in the intervals whenever I visit Shivaji Mandir. I crave Joshi's food after performing in Bal Gandharva or Kothrud Yashwantrao, Pune. The food might seem very normal on other days but when you perform and have it immediately after removing your make-up, it's out of this world. Sometimes, I can smell the food when the play is about to get over.

*Vipul Mahagaonkar is a director, playwright and filmmaker"