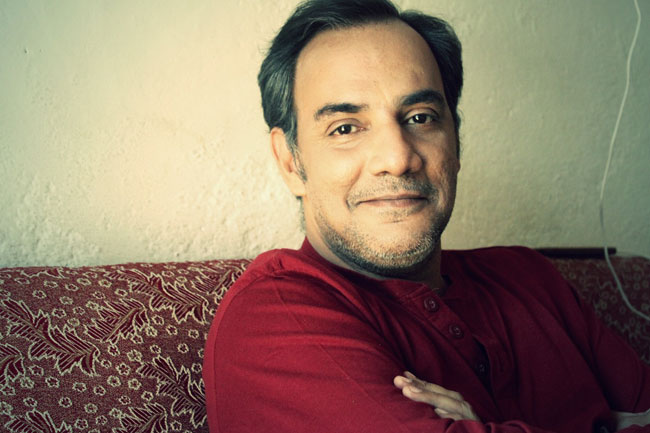 Which is the last good play you saw and why?

Sukant Goel's production of Ionesco's THE LESSON. Very diligent with solid performances. Also Mohit Takalkar's CHAHETA... very effective

Your favourite adda to see a play...

Prithvi Theatre

Your favourite playwright...

Arthur Miller, Vijay Tendulkar

Your favourite play-character...

Tough to take one name. I think the character of Madhav from G.P. Deshpande's RAASTE is the most relatable in the present scenario. A sort of helpless bystander around whom everything changes irreversably

A play you would like to see filmed. Why?

Hmmm.....the one I can think of off the top my head would be Manav Kaul's PEELE SCOOTER WALA AADMI. It would be interesting to see how a cinema auteur would transform its dialogues into cinematic language. Of course the surrealistic elements and politics of the play present a unique opportunity for breaking the conventional narrative form.

A novel/short story you would like to see on stage? Why?

I have been toying with the idea of adapting a short story by the late Suchitra Bhattacharya for stage. Well the plot is about a now Bangalore- based man going to a village to see his cousin sister....wouldn't be fun to reveal anymore. But deliciously subversive.

The most hilarious play you have seen...

Lots of them

A play, which is over-hyped...

Most English language productions. Plays....I don't know

An important play (but ignored):

RAASTE by GP Deshpande. The more time passes, more it becomes relevant

A PLAY CHARACTER YOU WOULD LIKE TO "DIALOGUE" WITH...

Willy Loman. He reminds me of my father in a lot of ways

A passage from an important play that you can recite...

At the risk of sounding pompous ....there are quite a few :)

A classical play that you should have read...

I wish I could read Kalidasa's MEGHDOOT in Sanskrit

A play that changed your perception about the theatre...

Different plays at different stages. First one was Badal Sircar's JULOOS

How do you regard the Mumbai/Indian theatre scene?

It's a bit like our stock market. While the economy is going down the stock market keeps going up. Similarly, more and more are doing theatre while there is less and less space and audience. One can argue that the total number of audience is more than it was in the 90s. But that growth is like growth in pollution or population.

Can you recall an event that was insightful, significant or simply humorous during your theatre journey?

Too many...

Can you think of a foreign production that you found remarkable? Why?

Phillippe Genty Opera brought a show for Prithvi festival. It opened my eyes to new possibilities.

Your favourite director/actor/music or set designer...

Sunil Shanbag

A significant Indian production that you may have witnessed.....

Again too many to name or even remember. Will name three:
TALEDANDA...by Tirugatha Ninasam
NATHVATI ANATHVAT by Shaoli Mitra
KARNABHARAM by Ratan Thiyam

Life in the theatre without the humble batata-wada or the cutting chai... or can you recall the best gastronomic experience you've had in the precincts of the theatre to date?

We do talk a lot about chai/vada pav at Prithvi, but the best used to be served at Bhaidas Hall. Specially when they had opened a small corner called "Khelaiya"
"