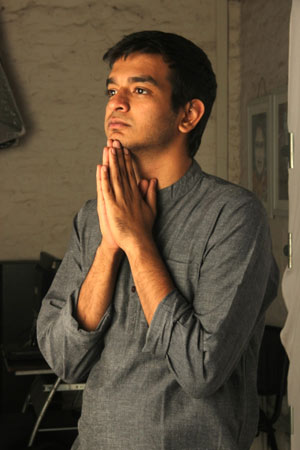 Which is the last best play you saw?
NOTES ON CHAI by Jyoti Dogra

Your favourite 'adda' to see a play
Prithvi Theatre. G5A in Mahalxmi is a wonderful space. I'm waiting to go and watch something there.

Your favourite playwright
Martin Mcdonagh,
Tim Miller (He's more of a performer-deviser)

A play you would like to see filmed. Why?
THE PILLOWMAN by Martin Mcdonagh, just so that I can watch it again and again. The play itself feels like a collaboration between Tim Burton and Wes Anderson.

A novel/short story you would like to see on stage? Why?
'The Handsomest Drowned Man in the World', and 'Light is Like Water' by Gabriel Garcia Marquez. There's something incredibly simple and magical about both these stories.

The most hilarious play you have seen
DOCTOR BROWN: THE BEXPERIMENT/ LE FOULARD by Lucy Hopkins.

A play, which is over-hyped
Peter Brook's BATTLEFIELD.

An important play (but ignored)
SHIVAJI UNDERGROUND IN BHIMNAGAR MOHALLA, directed by Nandu Madhav. I think it was popular in the Marathi theatre scene but should have been adapted to Hindi and English. It's a very relevant play.

How do you regard the Mumbai theatre scene?
It's vibrant, but there's a long way to go. I'm glad there are a lot more performance venues now and people are beginning to experiment with different spaces. We definitely need more institutional support and also need to find even more ways to make it viable and profitable.

If you have ever been a part of a theatre production/s, can you recall an event that was insightful, significant or simply humorous?
I was playing a much older character in a play and I had a fake moustache on. It was so hot, that halfway through the show the left side of the moustache kept coming off. I tried to stick it back on several times. Finally, I made a dramatic gesture, took it off in front of the entire audience and threw it off stage to a whole round of cheering and applause.

Can you think of a foreign production that you found remarkable? Why?
WAR HORSE directed by Nick Stafford. The scale of the show and the skill of the puppeteers are incredible.

A significant Indian production that you may have witnessed
Ramu Ramanathan's KASHMIR KASHMIR.