| | |
| --- | --- |
| Writer : | Pankaj Trivedi |
| Director : | Feiroz Bhagat |
| Cast : | Feiroz Bhagat, Apara Mehta, Amit Divetia, Pritesh Sodha, Khusali Jariwala and Vaishakhi Shukla |

AAV TARU KARI NAKHU
---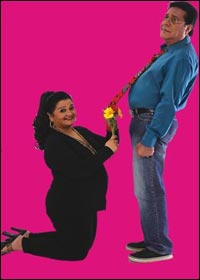 Roopkumar Rathod (Feroz Bhagat), a rich industrialist, receives a nasty surprise on his birthday - his nephew Divyanshu wants to take over the business and wants him out of the house. However, Roop manages to deflate his nephew's high hopes by referring to Divyanshu's dead father's will that allows him to remain in charge till his 60th birthday, which is one year away.

In the middle of this deadlock, Divyanshu's wife Swati hires a lawyer (Apara Mehta) to get all the property for herself and Divyanshu. A hilarious game ensues, further complicated by Roop's lawyer and the sudden arrival of his one-time girlfriend.

Supported by Vaishali Trivedi, Pritesh Sodha, Khushali Jariwala and Amit Divetia, this is Feroz Bhagat and Apara Mehta's 15th Gujarati play together. Their collaboration has resulted in successful plays including ADHURA TOYE MADHURA, KEM CHHO, MAJHAMA?, MASTI MA MARRIAGE, MARRIAGE MA MASTI, JAA TARI SAATHE KITTA AND EK BIJANE NADTA RAHIYE.