Schedule
No upcoming shows.
Families have forever had conflicts over property and money issues, especially when inheritance is the key factor. Baliwala Theatre's AAV TARU KARI NAKHU directed by Feroz Bhagat, is about Roopkumar Rathod (Feroz Bhagat), a rich industrialist, who receives a nasty surprise on his birthday when his nephew Divyanshu (Pritesh Sodha) claims that he is entitled to take over the business and would also like Roopkumar to leave the family house. Roopkumar manages to deflate his nephew's high hopes. He refers to Divyanshu's dead father's Will that allows him (Roopkumar) to remain in charge till his 60th birthday, which is one year away.

There is a clause in the Will however, which could further work in Roopkumar's favour. Divyanshu's wife Swati (played by Khusali Jariwala) helps Roopkumar in this. The clause requires Roopkumar to be married and be a father. At Swati's behest, Swarup Bapat (Apara Mehta) agrees to marry Roopkumar and give birth to his child. Now the pendulum swings from one side to another and after a few twists and turns, comes the resolution.

There are two major things that work in favour of AAV TARU KARI NAKHU. Firstly, the play never loses its primary premise. The story (story idea is by Feroz Bhagat) always maintains its focus. Right from the first scene till the end, the happenings revolve around one conflict. Secondly, all the actors synergize. The energy of each and every actor on stage makes the play an engaging affair.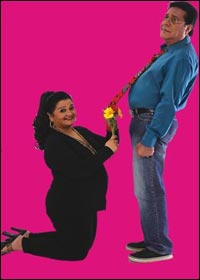 Though the writing (Pankaj Trivedi) takes a lot of digs at various 'primetime' issues ranging from the IPL to the weak government to B-town celebrities to famous ad jingles, it never looks out of place. But yes, it tends to get stretched at times. The play claims to be an innocent naughty comedy. It is also that. The risk with such comedies is that they tend to get obscene. The obscenity can even go on to the extent of being offensive and repulsive but fortunately the writing is controlled in this regard. Feroz Bhagat's direction is neither bad nor noteworthy. The set design (Chel Paresh), light design (Sanjay Nagolkar) and music (Bittu Merchant) are functional. The choreography (Mihir Trivedi) could have been more imaginative than resorting to pelvic thrusts.

Talking about the individual performances, if Khushali Jariwala does well with her Marathi accent, Pritesh Sodha does justice to a simpleton who stammers. Amit Divetia who plays a Hanuman devotee is adorable when he starts falling for the ladies. Vaishali Trivedi is also very good as Rasili and as Jogan (Meera like avatar) Rasili.

After having done around 15 plays together, the chemistry between Feroz Bhagat and Apara Mehta is expected to work. The frequent jugalbandi between the pair is a treat to watch in most scenes but could have been more restrained. The badminton sequence and Roopkumar's sleep walk sequence are to be watched out for. Apara Mehta is full of energy and excels in her role. Feroz Bhagat's energy and timing are exceptional. The trajectory of his character has been very neatly worked out and hence the lighter and sensitive moments are handled with utmost ease. Watch the play for its good performances.

Pratik Kothari has a Diploma in Acting from Barry John's acting studio. He has worked with theatre groups like Manoj Shah's Ideas Unlimited and Salim Arif's Essay Communications. He has also acted in films and is currently assistant director on Shyam Benegal's TV Series 'Samvidhan'.