| | |
| --- | --- |
| Writer : | Devashish Majumdar |
| Director : | Ramesh Talwar |
| Cast : | Aanjjan Srivastav, Sulabha Arya, Avtar Gill, Vivek Marwah |

KASHMAKASH
---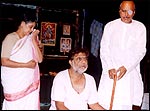 Translated from the original Bengali play by Devashish Majumdar, KASHMAKASH is about the exploitation of the needy classes that takes place by people who wield power.

Unable to cope with the penury of his existence, the protagonist of the play is forced by local politicians to transform himself into a false freedom fighter. As he gets used to living this lie, he realizes that he has taken on more than he had bargained for, and that the people in power are misusing him. Will he be able to break free of his shallow existence, his demagogue image?

The hollowness of contemporary Indian politics, which demeans and makes light of the nation's long struggle for freedom, forms the background of this play.