---
Deepa Punjani





Direction : Ramesh Talwar
Writer : Devashish Majumdar
Cast : Aanjjan Srivastav, Sulabha Arya, Avtar Gill, Vivek Marwah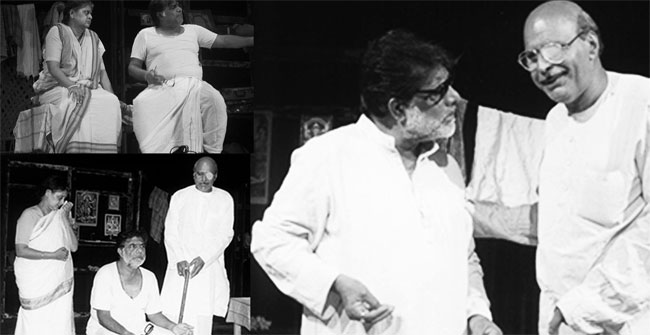 How can a period play set in 1977 Bengal be still relevant? To such a question, IPTA's play KASHMAKASH is the answer. Translated from the original in Bengali by Devashish Majumdar, the play is about a poor family living in one of Bengal's villages.

The family of four in which the breadwinners are the father and his young son leads a precarious existence on the basis of the incomes earned from bookbinding and tuitions.

To escape from penury, the father- Twishampati, goaded by the son decides to lead a false existence as a freedom fighter who had supported the freedom struggle of India. As a result, the family begins to eke out a living on the pension that the government awards to the freedom strugglers.

The father's new image is achieved with the help of a local politician whose original idea was to use the poor man for his own ulterior means. Given the stream of the story, one would expect a melodrama but thankfully that is not to be. Perhaps that is why the play is a telling comment on our society even today.

The action unfolds in a realistic setting as the family's bare essentials are displayed on decaying old racks. Annjjan Shrivastav as father and the resurrected freedom fighter gives a moving performance.



There is a journey that his character follows-from a man whose concern is to see his son get a decent paying job to a man who is enlightened by the brief spell of his role as a desh bhakt. This journey is interspersed with moments of comic relief as the father's new found status of a freedom fighter overshadows his true identity.

The play's effectiveness thus lies in the fact that it is not preachy and that it is not overtly filled with the all too familiar rhetoric of corruption and goondagardi. While these themes do undoubtedly form the background of the play, they are not sensationalized.

Rather the play takes an ironic look at the man who starts living his role as a patriotic freedom fighter. When he realizes that his truth has become a gnawing issue with the politician who has made him to be what he is, he painfully reverts back to the man he was. Despair, anguish and guilt have wrecked his soul but all is not lost…

It is the overriding nature of human helplessness in the face of adversity and tribulations that makes the play worth a watch. Performances by the rest of cast are also mature and supportive to the protagonist's purgatory journey.

I.P.T.A's name is synonymous with Indian Theatre today. Its old philosophies and work ethic may not find many takers in our era of globalization today but a play like KASHMAKASH is still very much relevant for our times.




| | |
| --- | --- |
| | KASHMAKASH Play Schedule(s) |
No upcoming shows.