| | |
| --- | --- |
| Writer : | Amitosh Nagpal |
| Director : | Amitosh Nagpal |
| Cast : | Amitosh Nagpal, Girija Oak-Godbole, Sakhi Joshi, Mahadev Singh Lakhawat, Devendra Ahirwar, Shimli Basu, Sayan Sarkar, Jahnvi Marathe, Tushar Kadam, Rajat Tiwari, Mohit Agarwal, Kewal Kartik |

MAHANAGAR KE JUGNU
---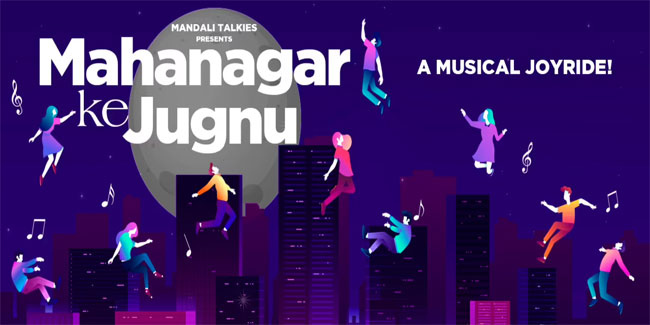 The story "Mahanagar ke Jugnu" is not about love, but it is about love. It's not a tragedy, but sometimes it feels like one. There isn't much of a story, but it is everyone's story.

What would you call the joy of meeting sadness when you want to be sad? would you say it's a sad or a happy encounter?

On a lonely night, an insomniac Jugnu, sits by himself complaining about his lack of ideas. As he tries to put pen to paper, his wild thoughts begin to creep in. A devastated dream (Sapna) and his pragmatic existence (Zoya) decide to confront him.

All his thoughts, ideas, dreams & characters have now arrived as summoned by Jugnu and demand to be written down.

They all poke fun at each other's expense.

His unfulfilled dream, the reality of his existence in this moment, the feelings he is experiencing, and the thoughts that are jumbled in his head, come together to bully him.

As Jugnu learns of all their stories, he comes to uncover his own.

What will Jugnu do? Will he endure with Zoya, will he reconcile with Sapna, will he abandon his thoughts or will he write a new story?

Mahanagar ke Jugnu is a foot-tapping musical comedy that will make you laugh out loud at all of life's beautiful ironies.