---
Neha Shende





Direction : Chandrakant Kulkarni
Writer : Prashant Dalvi
Cast : Rohini Hattangadi, Kadambari Kadam, Mukta Barve, Parna Pethe, Shreyas Raje, Ninad Limaye ,Parth Ketkar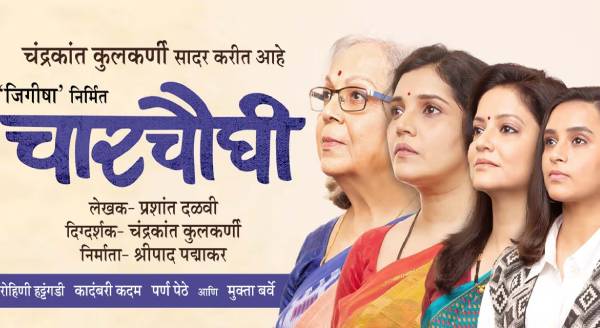 CHARCHAUGHI is the story of a mother and her three daughters and their trials and tribulations in love and life over a few months in the city of Pune in the early 90s. It is also a feminist play. A quick Google search tells you that feminism is the belief in and advocacy of the political, economic, and social equality of the sexes. The definition does not call for favouring women over men. And yet many men casually call strong, independent women terms such as 'feminazis' 'social justice warriors' and even 'men-haters'. It is therefore always refreshing to see men tell women's stories with such sensitivity and truth. The play written by Prashant Dalvi is progressive even for present day India, let alone the 90s, when he wrote it and when it was first performed. Not surprisingly, at the time, critics said it was revolutionary, parents wouldn't allow their teenage children to watch the play and soon it became a landmark in Marathi theatre.

The play, directed by Chandrakant Kulkarni, is a revival 31 years after it was first staged, with a fresh cast including Rohini Hattangadi who plays the mother, Mukta Barve, who plays her oldest daughter Vidya, and Kadambari Kadam and Parna Pethe who play the younger siblings Vaiju and Vinita. Ninad Limaye plays Vaiju's husband Shrikant, while Shreyas Raje and Parth Ketkar play Prakash and Viren, Vinita's friends.

The phrase 'char choughin sarkhi' in Marathi from which the title of the play is derived, literally means 'like four other women', or ordinary. These four women, though, are anything but. The mother has had her three daughters from an affair out of wedlock with a married man. The oldest -- Vidya is on the verge of divorce, Vaiju is the primary breadwinner of her household while her husband can't hold down a job for more than a few weeks at a time and Vinita, the youngest who is still in college, has ideas about love that are a little outside of set societal norms -- an arc so beautifully written, it swirls in your mind long after the play is over.

All seven actors wear their roles snugly like a well-fitted glove, making each scene shine. But there are a couple of scenes that deserve special mention: At one time, Barve's character Vidya, who is separated from her husband Ashish, is talking to him over the phone. During this conversation, Vidya goes from pretending to be indifferent to angrily screaming at her husband for committing adultery to lovingly reminiscing about their intimate moments and back to being angry. All throughout, Vidya goes from the bedroom phone to the living room phone and back trying to avoid her mother who is desperately trying to intervene. It is a heartwrenching, powerful scene and a long one, so that by the end of it, you are as emotionally exhausted as Vidya.

In another scene, Shrikant, who is essentially all beauty and no brains is talking down to his wife Vaiju, completely unaware of how terribly sexist and bratty he sounds. The mother, played by Hattangadi reprimands him. Hattangadi's thunderous voice booms across the auditorium as her character cuts in. As the mother lists all the reasons Shrikant is wrong and finally asks him to apologise to Vaiju, the transformation of the two characters from the beginning of the scene to the end in terms of the power dynamic is impressive. The mother goes from being a quiet listener to fierce and protective; Shrikant goes from being loud and annoying to meek in the same period of time.

Every moment in the play is full of truth, each character telling the story of thousands of other women like her, uttering words they have uttered, or have at least wanted to. Ashok Patki's masterful music is beautiful as always heightening the already intense drama further. Watching the play once is not nearly enough.

*Neha Shende is an avid theatre goer and enjoys watching old Bollywood movies in her free time.




| | |
| --- | --- |
| | CHARCHAUGHI Play Schedule(s) |
| | |
| --- | --- |
| 3:30 PM, Thu, September 28 | Prabodhankar Thackrey Auditorium, Mumbai (map link) |
| | |
| --- | --- |
| 9:30 PM, Fri, September 29 | Yashwantrao Chavan Natyagruha, Pune (map link) |
| | |
| --- | --- |
| 4:00 PM, Mon, October 2 | Acharya Atre Natya Rangmandir, Mumbai (map link) |
| | |
| --- | --- |
| 4:00 PM, Tue, October 3 | Gadkari Rangayatan, Mumbai (map link) |
| | |
| --- | --- |
| 5:00 PM, Sat, October 7 | Mahakavi Kalidas Kala Mandir, Nashik (map link) |
| | |
| --- | --- |
| 9:30 PM, Sat, October 21 | Ram Krishna More Auditorium, Pune (map link) |