Direction : Avneesh Mishra
Writer : Saurabh Nayyar
Cast : Saurabh Nayyar, Niketa Saraf, Monika Mishra, Saby Mishra, Ananya Purkayastha, Natasha Azad, Anand Dubey, Shravan Borana, Kush Jobanputra, Roshan Shetty, Amey Ghule, Nishil Kamalan, Rahul Tiwari, Niyati Kaul, Mudita Shauq, Shubhin Kant, Dhwani Datt and Others


SUR V/S ASUR Play Review
---
Schedule
No upcoming shows.
The premise of Avneesh Mishra's new musical for children, SUR VS ASUR is simple, but enjoyable: Aadarsh and Nidhi, siblings who are both studying Hindustani music are pulled into a dream world that seems to be of Adarsh's making. The children simply wish to return home, but must go on a quest to do so. This involves learning about some of the different kinds of music that exist all around the world and features songs by musicians such as Lalon Fakir and Miriam Makeba. Of course the quest is also filled with danger, which comes in the form of the evil crow-like creatures who seem intent on throwing the world into a mad cacophony of honks, beeps, clangs and rap music.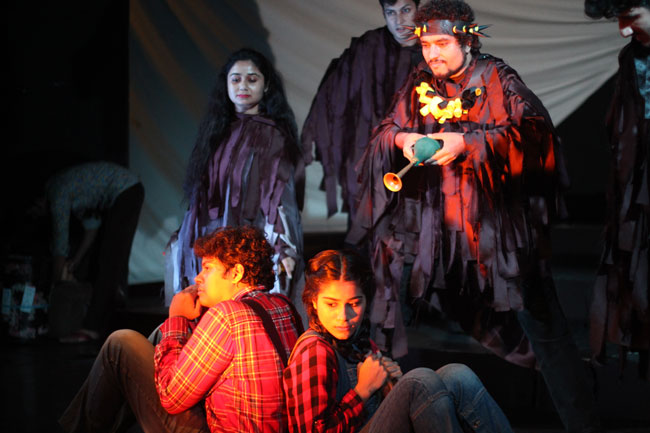 The play is an exploration of good and evil, told through the language of music; only the duality created by the play's definition of what makes 'Sur' and 'Asur', is troubling. The play references and uses several strains of Indian classical music in a bid to make children aware of the traditional music that exists in India. While this is understandable, it must be remembered that the idea of 'classical' Indian music is actually a creation of early twentieth century India, where Indian elites realised that the fight against the British also meant countering western ideas of tradition and heritage. This happened across most art forms and so Indian classical music as we understand it today, be it Hindustani, Carnatic, or classical variations such as the Bishnupur Gharana, were all formalised along some western principles by specific sets of people and communities, and are therefore not necessarily inclusive.

There are musical styles from around the world included in this play, and some are non-elite in their origin, conceptions of 'ideal' audience and whose stories they tell. Miriam Makeba for example used her music to fight against Apartheid. Yet the play's classification of rap, pop and hip hop music, as 'not music' or at least not the 'right kind of music' is troubling. Rap and hip hop, like rock, emerged as a counter to what was considered mainstream 'white' music in the United States of America at the time. Rap and hip hop were expressions of African American culture and their attempts to establish a legacy of music. Since the play is an attempt to introduce children to styles of classical music that seem to be slipping away from them, it would also do well to point out to these young audiences that neither 'traditional' nor 'modern' are terms that are intrinsically good or bad, but merely filled with whatever values we as individuals and communities assign them. Besides good music is not restricted to any single genre.

While the play has a rustic physicality that allows it to move between scenes seamlessly, some actors lack presence, and dialogue does not always flow naturally. A majority of the cast are excellent singers, and a song usually helped move along scenes where the acting lagged. The music in SUR VS ASUR is performed live and the musicians accompanying the actors are marvellous.

Actors Saurabh Nayyar and Niketa Saraf who play Aadarsh and Nidhi respectively, are entirely believable as the quarreling-but-affectionate siblings who on the one hand, are delighted by their adventure, but on the other, quite eager to return home. Though the play lacks a nuanced approach to different kinds of music and their traditions, it is an enjoyable and entertaining watch, with several familiar tunes, jaunty characters and well placed humour.

Nayantara Nayar is a freelance scriptwriter based out of Mumbai. She has previously worked as an artistic director and resource trainer for a youth theatre company in Chennai. She enjoys writing about theatre and the arts.