---
Neha Shende





Direction : Nimmy Raphel
Writer : Nimmy Raphel
Cast : Meedhu Miriyam, Sooraj S, Anil Iyer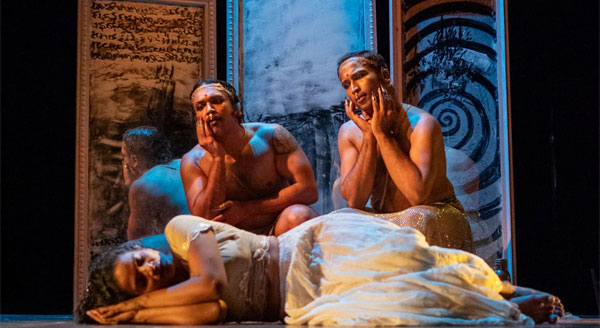 Adishakti's latest production, URMILA, written and directed by Nimmy Raphel, builds around the legend of how Lord Lakshman's wife slept continuously for 14 years while her husband was in exile so that he could stay alert without sleep to protect his brother and sister-in-law in the forest. As the Ramayana is commonly known, Goddess Nidra appears before a wakeful Lakshman and tells him that he cannot live without sleep unless someone takes his place. Upon his suggestion, the goddess of sleep asks his wife, princess Urmila, if she is willing to make the sacrifice. Urmila consents to give away 14 years of her life to this sleep, known as Urmila Nidra.

This legend is turned on its head in the play. In this version, Lakshman has made the deal with Goddess Nidra without Urmila's consent and Urmila (played by Meedhu Miriyam), after a few years has gained semi-consciousness. She now lies in a garden somewhere between sleep and wakefulness fighting off Goddess Nidra's soldiers (Sooraj S. and Anil Iyer) while she tries to claw back some agency over her life.

The play has minimal dialogue sprinkled throughout and relies in large part on dance-like or performative movement. Both the dialogue and movements are repetitive to create a sort of hallucinatory effect to depict Urmila's state of semi-consciousness. Beautiful light design and music composed by Vinay Kumar enhance the effect and immerse the viewer in this limbo land. Especially beautiful are little orbs of light that the sleep soldiers carry around with them, like tools to hypnotize Urmila back into sleep. Moments when the stage goes completely dark except for the glowing orbs of light spread all across, look truly spectacular. Manju Bargavi and Raphel's costumes add to this spectacle.

Miriyam is beautifully expressive as the angry, hurt, cursed Urmila, whose husband has made one of the biggest decisions of her life on her behalf. Miriyam's lithe body, stretched to extremes under strain as she battles the sleep curse is a wonder to watch throughout the performance. So many epics glorify the heroes, while the heroines lie forgotten on obscure pages, their own stories limited to the parts they play in those of their husbands or fathers or sons. And in that regard, URMILA is an important piece.

However, it would have made for a more touching drama if Urmila's character had more lines that conveyed her anguish, her state of mind. The sleep soldiers were deliciously evil, dumb, and gleeful - a little like Disney's villain sidekicks. But most of the humour supposed to have been brought out by the soldiers with their side comments through the play was lost due to a language barrier. While Urmila speaks in English, a lot of the dialogue between the soldiers is in dialects of Kannada, Malayalam, and Tamil. And while one can get a gist of the general direction of the humour, it is just not funny without being able to appreciate the word play.

URMILA is a visually stunning piece with a strong point to make but could perhaps have a greater impact with shorter comic breaks, more accessible dialogue and added dramatic depth.

*Neha Shende is an avid theatre-goer and enjoys watching old Bollywood movies in her free time.